Reflections Of Food On The Celebrity Reflection Cruise Ship.
We recently cruised on the Celebrity Reflection by Celebrity Cruises and now reflect on the food we had on the ship.  We didn't have a bad meal.  The food was delicious and plentiful.
Thanks to Executive Chef Darran Ridley (above) and his staff for our never-ending meals.
I took the Heartbeat of the Operation Galley Tour — A behind the scenes look at the Galley.
In the Galley are photos (above) of every dish prepared for the Main Restaurant (below).
Guests seated above were waiting to tour the Galley, while Chefs answered their questions.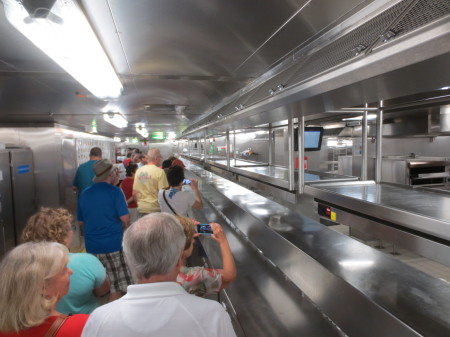 Did you know 2,300 Dozen Eggs and 3,800 lbs. of Butter are on the Celebrity Reflection for an average 10-Day Cruise?  And 1,000 Gallons of Ice Cream and 75,000 lbs. of Fresh Fruit.
2,000 liters of Heavy Cream, 1,900 lbs. of Salmon and 12,300 lbs. of Potatoes get consumed.
3,000 lbs. of Tenderloin and 2,740 lbs. of Rack of Lamb — I don't recall how many Lobsters.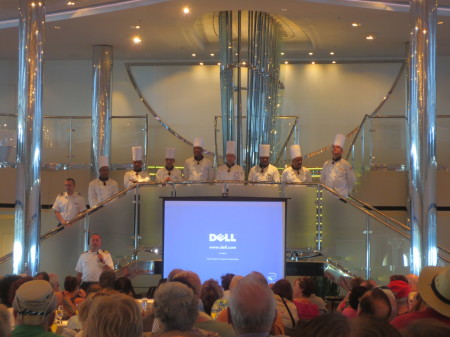 Unlimited Main Restaurant/Dining Room FOOD is available inclusive for all.
Post cruise reflection… I should've had more Oysters Rockefeller.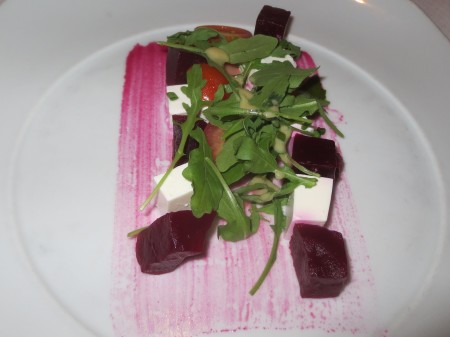 I didn't photograph everything and don't have any menu descriptions, but know that I would've appreciated finding this information after researching Celebrity Reflection.
All food posted is for the Main Restaurant and included in the cruise price.
 For an extra cost, Celebrity Reflection has several other restaurants to choose from.
The ever-changing Main Restaurant MENU was so good each night, we never strayed.
Celebrity Reflection also offered a Sushi Making Demonstration and Star Chefs Cooking Show.
And several Wine Tasting Workshops around the ship.
Our Eastern Caribbean Cruise stopped in Puerto Rico, St. Thomas and St. Maarten
We thoroughly enjoyed each port with Celebrity Reflection's lovely meals woven in between.
Baked Alaska on a cruise, of course.
A Chocolate Soufflé.
And Cherries Jubilee.
We were in Concierge Class and received daily snacks and flowers — A sample daily snack (below) included Olives, Hummus, Chips, Cheese and Salsa.  It could've been better.
We became fond of Cellars Masters, a sophisticated, Enomatic Wine Dispensing Bar (below).
Us (below) on Formal Night, while on our Honeymoon, btw.
Celebrity Reflection docked in Puerto Rico (below), our favorite port, though we loved them all.
Info regarding our favorite Bar and Restaurant in San Juan, Puerto Rico is reported here.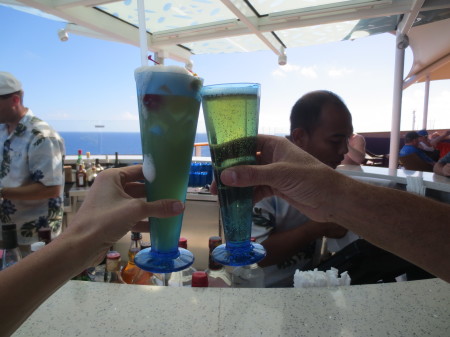 Cheers to us here and always!  I didn't even mention Celebrity Reflection's Buffet… tmi.