Oh Oh O'ReeO: Martha Stewart's Cookies And Cream Cheesecakes.
Have you heard of Bookswim?  It's the Netflix of books.  The library that comes to you.  I love it.  It's a great way to test out books, or read a lot of them for less money.  Through Bookswim I checked out Martha Stewart's Cupcakes cookbook and chose to make the Cookies and Cream Cheesecakes.  The recipe is in her book and it's also been reported about by several food bloggers, as found here and halved here.  It's an easy and luxurious dessert.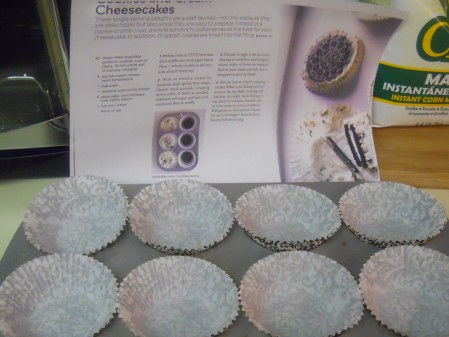 Since I REALLY didn't need 30 Cheesecakes, I halved the recipe, which worked very well.
Start with a Muffin tin with paper liners and an Oreo Cookie for the bottom Crust.
Combine the other ingredients as specified and pour over each Oreo Cookie and bake.
They look special in B & W, color and upside-down, and taste great too.  I'll make 'em again.