Fruit Trifle With Ladyfingers & Whipped Cream For The Best Lady.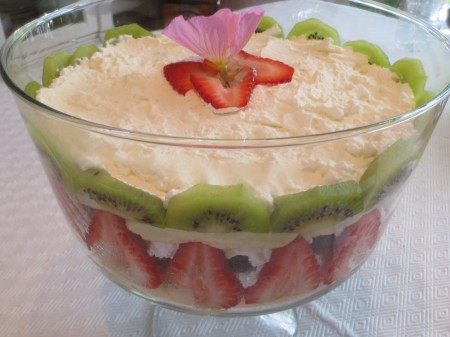 Ladyfingers, Fruit, Whip… Ladyfingers, Fruit, Whip… Ladyfingers, Fruit, Whip — That's basically how you make it.  Insert any Fruit for the "Fruit."  I used Strawberries, Blueberries and Kiwis.  The Ladyfingers were store bought to save time, but I will always whip my own Heavy Cream with a little Sugar to make it taste best.  The pictured Fruit Trifle was made for Mother's Day.
If wanting to make it extra pretty, create the Trifle's outer design separately from its layering.  Fruit looks best vertically through the glass, but is layered horizontally — In other words, place the Fruit and Ladyfingers against the glass as shown, or how you want it, and then layer as chanted in the middle/inside.  Repeat process as you build upward.