All Proceeds Help Others: Andrei's Conscious Cuisine & Cocktails.
Responsibility never tasted so good they say — 100% of the profits from Andrei's Conscious Cuisine & Cocktails go to aid people affected by vision impairment and blindness.  How often does that happen?  It's a wonderful thing, as is the waterfall wall seen as you walk in.
It's touching to see how loved Andrei was by his family — The restaurant was created in his honor and now helps others.  Read more about that here and you'll want to dine there. 
The restaurant is upstairs and special events are hosted downstairs and up.
It's an open, airy space with lots of big windows.
More about Andrei's is told on the menu and more about the menu is here.
They have a Happy Hour, Free Corkage on Tuesdays and a Flamenco Guitarist some days.
It's called Conscious Cuisine & Cocktails, as they "care deeply" about all aspects of food sourcing, serving, and creating an environment where sharing a meal enhances relationships.
During a Happy Hour pop in, we shared a few Small Plates.
Andrei's Crab Cakes.
Vegetable Arancini.
And Grilled Tomato & Cheese — Our favorite of the bunch was Andrei's Crab Cakes.
Bar and lounge area with cozy couches and pillows.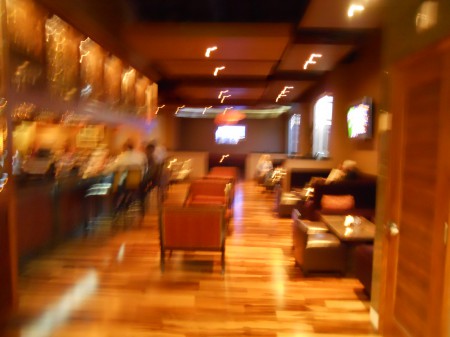 Everyone was so nice, without the mention of Nibbles of Tidbits, our regular M.O.
The valet parking area reminds me of Palm Springs — I like the feel and thought of it all.