Appreciation For El Torito's 60 Years Of Innovative Mexican Cuisine.
Comida del Oceano — A Limited Edition Seafood Menu currently being offered at El Torito Cantina Authentica in honor of its 60th Anniversary.  They're having a 'Year of Celebration'.
Nibbles of Tidbits was invited to try most items on El Torito's Comida del Oceano Menu.
It was an honor for us, as we respect and appreciate El Torito's 60 Years of Service — Gracias!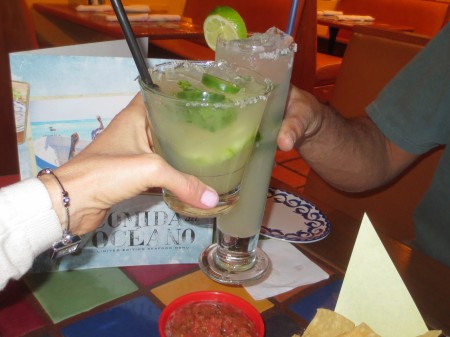 Cheers to that with a Spicy Pepino Margarita and Yerba Buena, described below and here.
My favorite, the Spicy Pepino Margarita is made with Cucumbers, Cilantro and Jalapenos.
Also on the Comida del Oceano Menu, pictured from top down is the Calamari Filet Appetizer (Crispy Calamari Filet Strips served atop Baby Arugula with a Sweet Chili Sauce), which was perfectly crisp and tender, nicely cooked and the best Calamari I've had in a long time.
Enchiladas de Mariscos filled with Shrimp, Crab and Three Cheeses.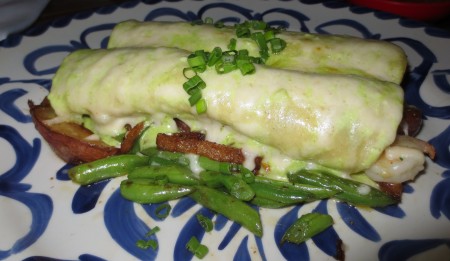 The Enchiladas are served atop tasty sautéed vegetables, as shown above and in first photo.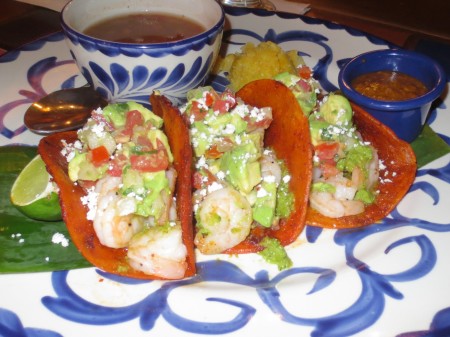 Tacos de Camarones, served in Guajillo basted Tortillas — We loved that about them.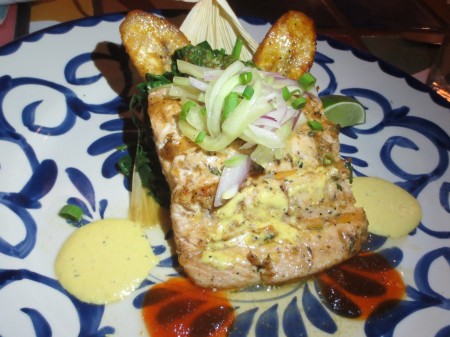 The Salmon Polanco-Style is a work of art and great atop Spinach and Chimichurri Sauce.
Camarones en Garlic-Lemon Butter Sauce — Loved the Roasted Tomato Butter Sauce too.
Cheers to El Totito's longevity and continuous progression.
Our menu tour concluded with the Seafood Fajitas Supremas, a guest and employee favorite.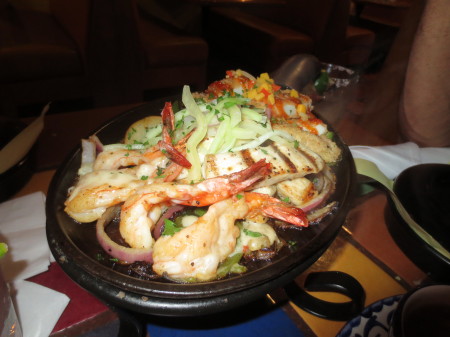 It includes Shrimp, Mahi Mahi and Crispy Calamari — A supreme Fajitas combination indeed.
Flourless Chocolate Cake, a gluten free choice by many — It's ultra-moist with excellent flavor.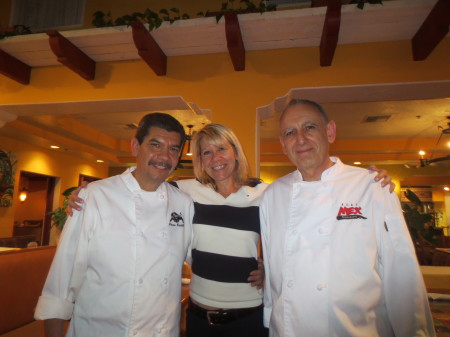 Thank you dedicated Chefs!  Looks like they have a great team under Chef Loreto Alcala (right).  Chef Arturo Castillo (left) heads up El Torito's Orange location off The City Way.  We dined at the Fullerton location this day, a nice, large space with a Bar and Outdoor Patio.
We wish El Torito 60+ more years of success combined with dish and drink innovation.