Totally 80's Bar & Grille In Fullerton: Oh Good, It's In The Hood.
We can walk or bike to Totally 80's Bar & Grille in Fullerton — It's a relatively new Bar, Restaurant, Dance Club & Karaoke Bar in the neighborhood.  It occupies the space of a former Mexican Restaurant, Bar & Event spot.  There's little change to its exterior other than the somewhat cheesy sign (sorry).  Its theme caught our attention and made it a must stop.
I love 80's music and inside it's a whole new retro world — We're impressed!
It's well decorated and fun throughout.  We're unsure about the "Grille" part of Totally 80's Bar & Grille, as we only tried the 'Totally Awesome Tots', which appear to be popular.  We tried two of the three offered — The Chili Cheese Tots and Nacho Cheese Tots.  The third, Tots Poutine includes Gravy and an Egg.  Good combinations.  The Tater Tots were crisp, but a bit expensive ($10), if not from their Late Night Menu ($6) — We'll try the Tots Poutine then.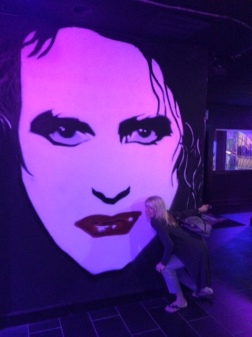 Robert Smith (above) of one of my favorite bands, The Cure — We're definitely going back to try and photograph more.  Actual 80's bands, real and cover play here too.  We're monitoring their events schedule.  Welcome to the hood Totally 80's Bar & Grille.  Great to see you!
Related — That 80's Bar in Montclair and New Wave Restaurant in Lakewood.