A Day In Malibu With Much To Do, See And Eat (Again Please).
Perhaps the best Blackened Catfish we've had is at the Reel Inn in Malibu off PCH.
We took a drive along the coast and love where we landed (all day long).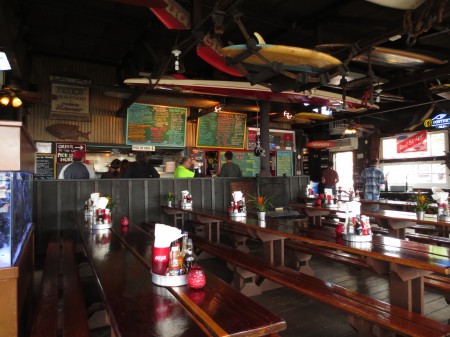 We'd go back to the Reel Inn for the very same thing and more after I study the menu.
I wanted to buy the Cajun Spice but they don't sell it and wouldn't tell what's in it.
It's a Fish Market and Restaurant with indoor and outdoor seating.
Pictured above is Spuddy Freis aka Mr. Potato Freis who traveled with us — We're dorks.
View across the street from the Reel Inn (above).
On the way to Paramount Ranch in Agoura Hills, near Malibu.
Still on PCH heading towards Mr. Magoo or something phonetically like it. 😉
What a find — It's the Old Place (below) and we're so glad we peeked inside.
It's a (circa) 50 year old BAR in a 100 year old building with cool people inside.
We appreciated the smiling guy singing with a guitar and genuinely friendly patrons.
Cheers with a non-fancy Wine glass — We're told to try the Steamed Clams next time.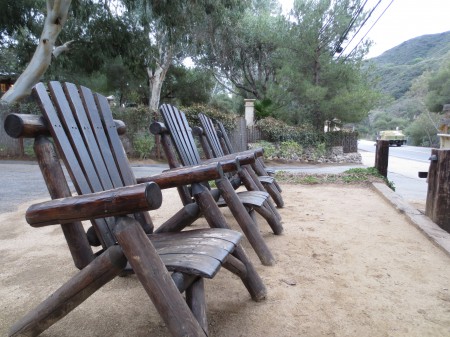 Loved the Old Place — It's stylish all around it with unique shopping and Wine Tasting too.
Finally made it to Paramount Ranch on a mostly overcast day, but all was historically beautiful.
Paramount Ranch — It's where many old westerns were filmed and a fun place to explore.  You're free to roam around and play outside the Saloon, Barber Shop, Sheriff's Office and other structures — We cracked up making short, funny videos that we're still laughing at.
Back to the Fish in Malibu (hopefully someday) and more of everything this day, please.