Experience The Speakeasy Sanctuary From Tedium: Pie Society.
Pie Society is inconspicuously set within the back of Pitfire Artisan Pizza in Costa Mesa.
When I first read… Experience the Speakeasy Sanctuary from Tedium — I thought, what?
It's Pie Society, a separate, connected, somewhat secret Bar, open Tues. – Sun., from 5p.m. to "Close" whenever that may be — Enter through Pitfire Artisan Pizza, if you can find how.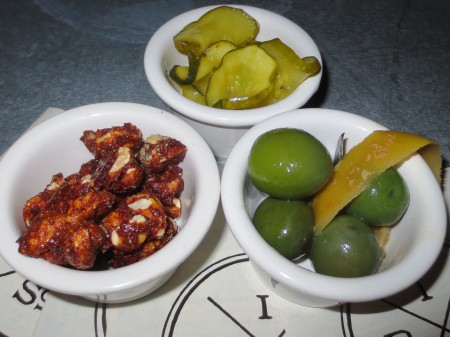 There's also a back entrance to this speakeasy-type Bar — I love the idea.  It makes it cool.
And you can tell from its look, menu, drinks and related peeps — It is cool!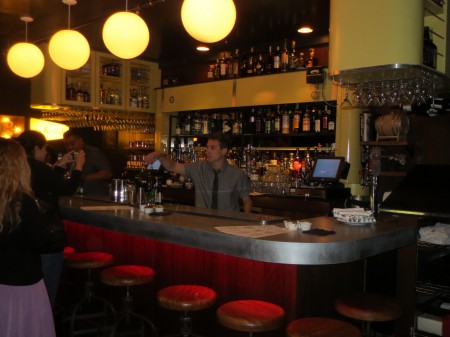 The Bar is framed with parts of the old Marie Callender's Pie oven that once occupied the spot.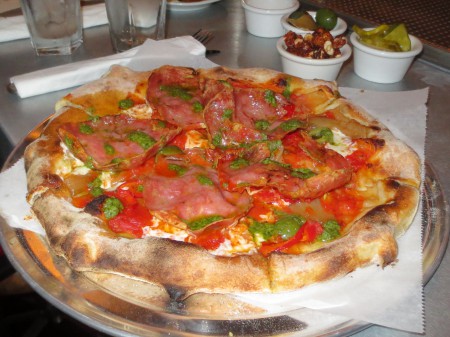 Pie Society has its own Signature Menu, with mostly different food than Pitfire Artisan Pizza.
Prior to its opening last week, media got to experience the reminiscence of Pie Society.
Signature Menu items are pictured throughout and 'loosely described' herein from top down.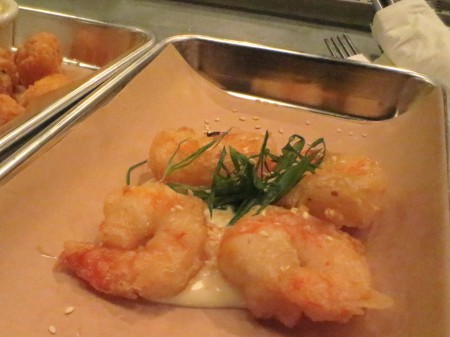 Loosely, yes, since the Pie Society House Drinks and Iconic Selections positively detonate!
I tried a few and the El Primo with Sombra Mezcal, Home-made Lime Cordial, shaken with a Lime Wheel was a favorite.  I fell for Mezcal at Pie Society — Good thing I walked there.
Cheers to El Primo (above), the Pool Side (below) and the Hemingway Daiquiri — Ask for 'em.
I can't name all pictured Pizzas, but Pie Society offers a few from Pitfire and a few unique to it.
It's very dark inside which is part of the fun, but it makes it tough for photos.
Food media events bring out the best to capture ALL best.
Drinks Stars — I love the house-made (almost) everything… Juices, Syrups, Cordials, etc.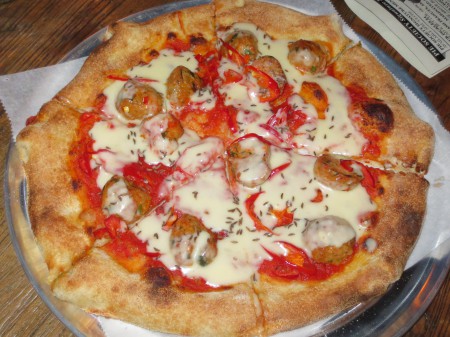 When there, sliding doors sometimes open up to a Pizza oven and additional seating (below).
The view back into the Pie Society Bar area (below).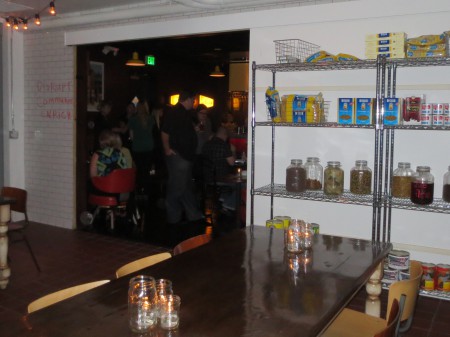 See the exit sign in the Pitfire Artisan Pizza restaurant (below)?  It's a way in to Pie Society.
Pizzas are exceptional on both sides of the building, at Pie Society and Pitfire Artisan Pizza.
We tried a Trio of Bread & Butter Pickles with Sriracha and Dill, Pastrami Peanuts with Smoked Sea Salt, and Smoked, Marinated Olives, and Superba Fried Chicken, Tater Tots with Chorizo Fondue, Crispy Dim Sum Shrimp, Cheeseburger Hot Pockets, Kimchi Deviled Eggs and Sweet & Sour Crispy Pork Belly.  The Chorizo Fondue and Pork Belly stood out as superstars to me.
I felt big love and blow its cover.  Another provides more information here.