Tana, Abyssinia & Merhaba: Ethiopian Restaurant Reviews.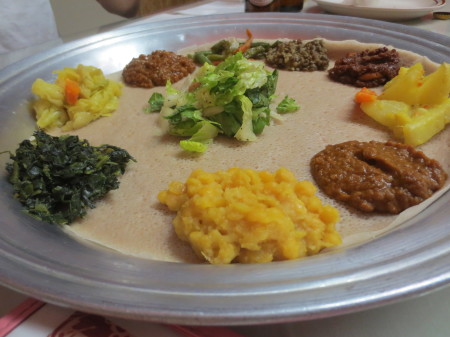 Have you ever tried Ethiopian food?  I hadn't until recently.  Do you know anything about it?  I just moved to Fullerton near several Ethiopian restaurants.  Curious about them, I researched 'local Ethiopian food' to learn which is best.  Since those closest (Tana, Abyssinia & Merhaba) had good reviews on Yelp, I became less clear where to go, thus I tried and compared them all myself, along with my adventurous husband – One Vegetarian Combination Plate at a time, served on Injera, a sourdough-risen flatbread with a slightly spongy texture.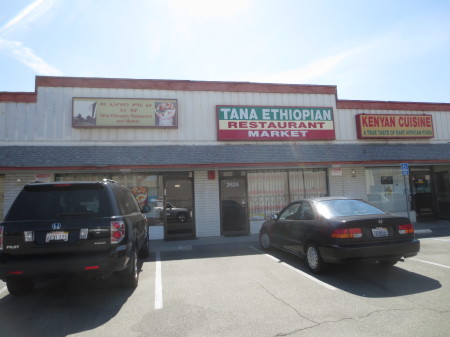 We started our Local Ethiopian Food Tour' at Tana Ethiopian Restaurant (above) on La Palma Avenue in Anaheim.  It's located in a small strip mall and doesn't look like much on the outside, but inside it's relaxed and smells like something good is cooking.  Don't be timid to go inside, everyone's nice — A common theme of all three.  There's a better world inside each.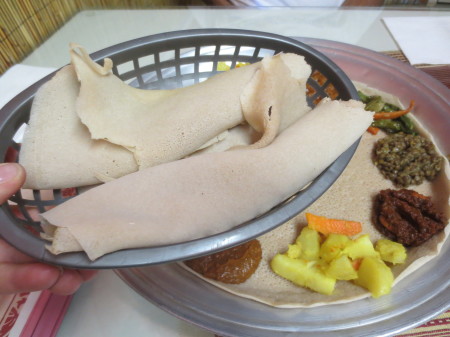 We had a Vegetarian Combination Plate at each restaurant — It's a varied combination of Shiro Wot, Kik Alicha, Gommen, Yemiser Wot, Sinegkarya, Lentil Stew, Potato & Carrot Wot, etc., which generally translates into Cabbage, Spinach, Potatoes, Carrots, Lentils, Split Peas, Green Beans and/or Chard cooked with Onions, Garlic, Ginger, Chili Powder, Turmeric and other spices.  A Wot is a thick stew of different vegetarian and non-vegetarian types.
Inside Tana (above) — Toasting with African Beer.  Beer & Wine is served at all three.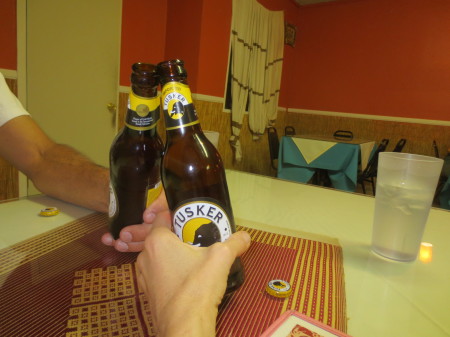 No utensils are provided — You eat with your hands using the Injera.  It appears most meals are served on it and more is provided on the side.  We didn't take lessons on how to eat.  We just tore-off a piece of Injera, pinched a little Wot and ate it.  It worked well and made us full.
The Injera can be quite filling — Towards the end, I wanted a fork to eat less of it.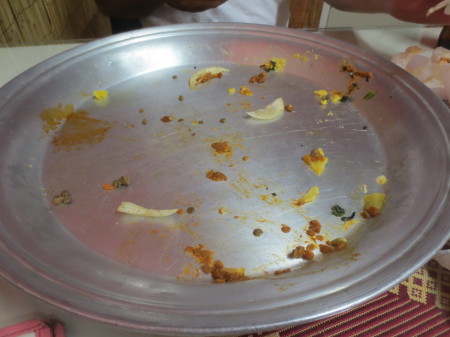 Abyssinia Ethiopian Cuisine (below) is the second Ethiopian restaurant we tried in Anaheim, California — It's located off West Lincoln Avenue and it too is unfancy on the outside and welcoming inside.  Its Vegetarian Combination Plate also offered ten unique dishes.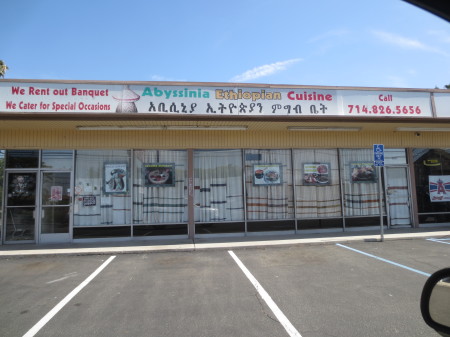 Both Vegetarian Combination Plates thus far had similar dishes with a Salad.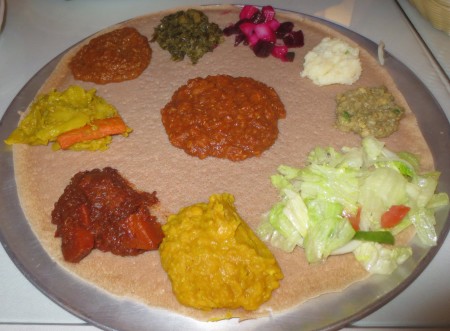 Except for the Salad, most dishes are served warm, though above had additional cold dishes.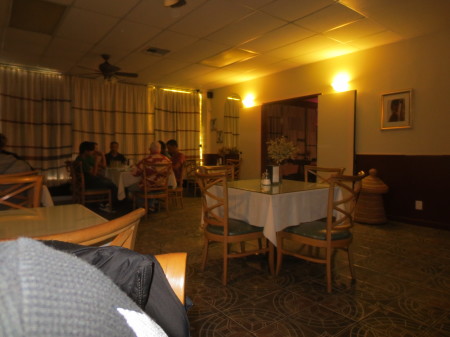 Inside Abyssinia Ethiopian Cuisine (above) — Toasting with Honey Wine & African Beer.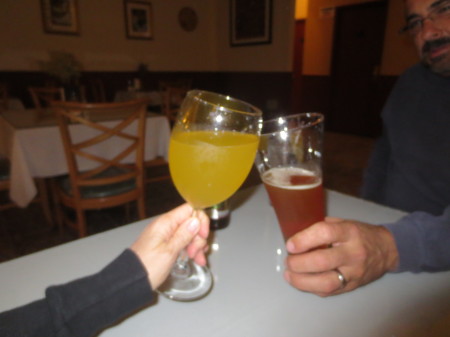 We also tried their Doro Wot aka Doro Wat – A Spicy Chicken Stew made with Chicken Legs and Hard Boiled Eggs.  The Sauce was flavorful and the Chicken was tender, but there wasn't enough of it — Abyssinia's Vegetarian Combo was more filling than their Doro Wot.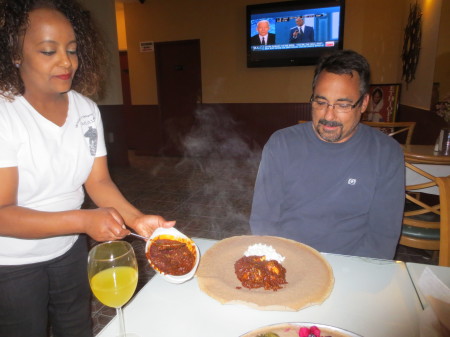 And finally, we tried Merhaba East African Restaurant (below), last on this tour, but certainly not least.  Consistent with the others, its exterior isn't pretty, especially sandwiched between an Emergency Walk-In Center and a Thrift Store, but there's a friendly escape inside.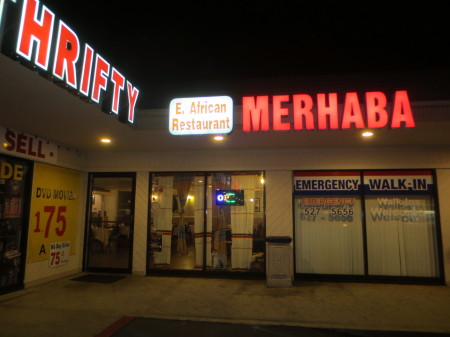 As shown, Merhaba's Vegetarian Combination Plate (below) has six dishes and no Salad.  It includes fewer dishes than Tana's and Abyssinia's Combos, but we both liked Merhaba's plate the best.  Each dish had an abundance of flavor.  It's quality, not quantity at Merhaba.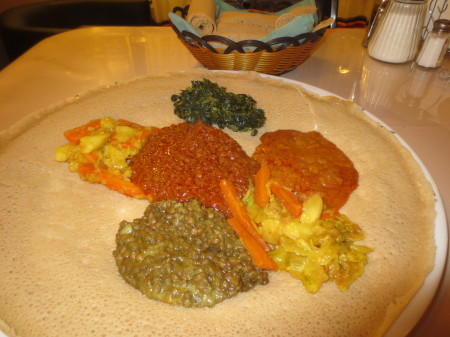 It's funny… I was least excited to go to Merhaba, mostly because it has less of a presence online, but it may now be my first pick.  It's similarly comfortable inside too (below).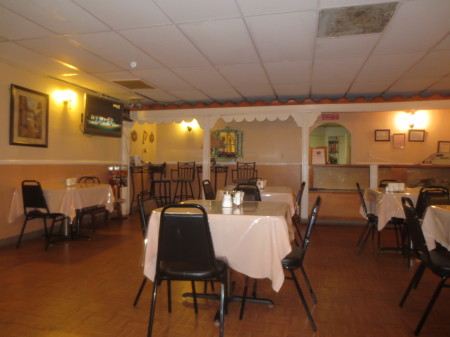 Cheers to Merhaba with a different African Beer.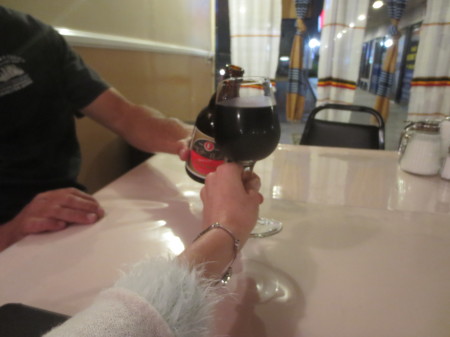 Next time we'll try their special Coffee (below), which is served after a ceremonial process.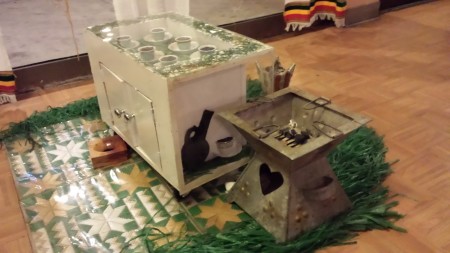 As reported, Tana Ethiopian Restaurant, Abyssinia Ethiopian Cuisine and Merhaba East African Restaurant are indeed good and worth a visit and more.  All should definitely try Ethiopian food.  Contrary to what some think, Ethiopian food is filling and appetizing.