Pieology Pizzeria: The Study Of 'K'ustom Pizza At One Fair Price.
At Pieology Pizzeria, I can finally get all the Pizza toppings I want without worrying about cost.  I usually limit Pizza toppings to 3 max, otherwise it gets expensive.  Here it makes sense to have more.  For one price — $7.95 — You can have them all if you want.  And it's fast too.
It's easy — Just go through the assembly line and tell them what you want.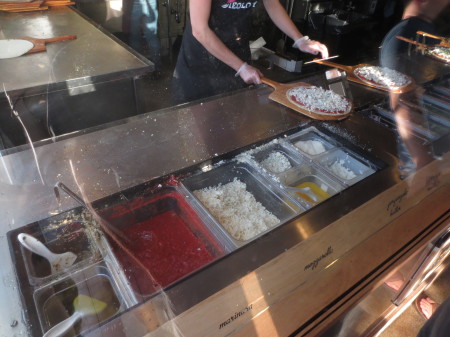 What kind of Sauce?  What kind of Cheese?  1/2 and 1/2?  Simple?  Complex?
It's all up to you.  Want more Pepperoni than generally allotted?  You can have it — I like that!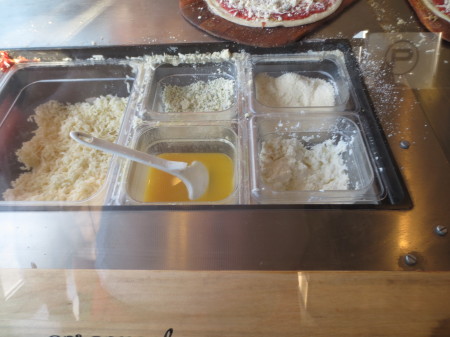 To simplify, you can also choose one of Pieology's 7 Specialty Pizzas from $6.45 – $7.95.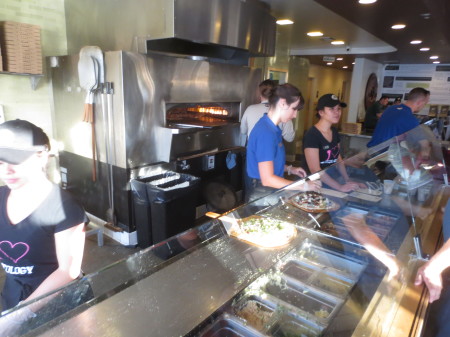 It's a nice sized Pizza with a perfectly crisp, thin crust, for one or two people.
A friend of mine works at a movie theater near a Pieology Pizzeria and says many sneak Pieology Pizzas into the theater.  I'm not sure how, but it's done.  And he says… it's the most coveted leftover by those cleaning theaters — Some like it so much, they'll eat a stranger's last slices if they're left in the theater.  Yikes!  I surely wouldn't do that (hahaha), but it goes to show how good it must be, or theater employees need to eat before going to work.