Best Huevos Rancheros and Hash Browns At The Golden Ox.
It looks different than most I've had, but the pictured Huevos Rancheros at the Golden Ox Restaurant in Fullerton is one of my favorites for breakfast, lunch or dinner, which is served all day.
As a bonus, it comes with Bacon, Beans, Rice, Hash Browns, Tortillas on the side, and Salsa.
It's not a fancy place as you can see, but they do a great job there.  The Huevos Rancheros is consistently good, even when had three times in a week.  I'm hooked.  And now my husband is too, which helps get me there more often, yay.  It's off Commonwealth where North Brookhurst ends.
Dine in or drive through — Inside food is served on plastic plates.  It's a little fancier than fast food.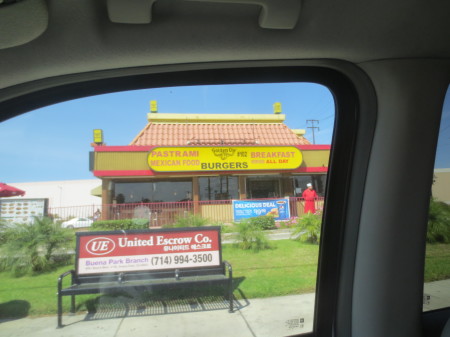 The Sauce on the Huevos Rancheros is excellent.  It has a long, home cooked flavor and we love it.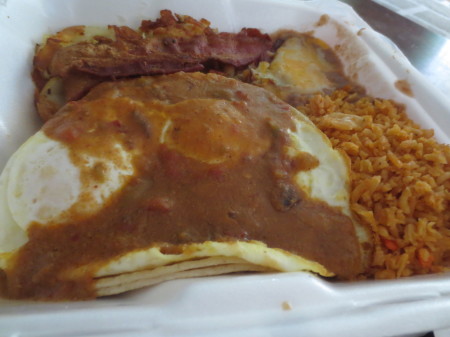 Also, I've never been a Hash Browns fan, but I'm a big fan of theirs.  I look forward to having them almost as much as the Huevos.  And it shouldn't go unmentioned that the Bacon is always extra crispy, and the Beans and Rice are above average too.  All make up a masterpiece at the Golden Ox.
We shall have it again soon, I'm sure.