A Bite Of LA: Chinatown, Olvera Street & Philippe's French Dip.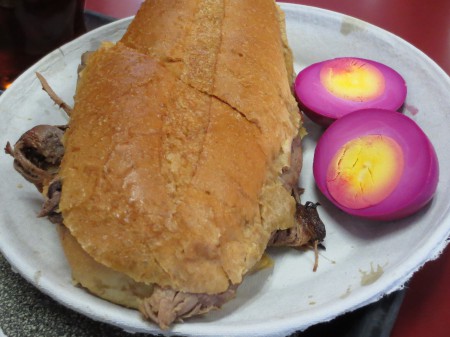 We took the train to LA for the Chinese New Year Parade in Chinatown, then walked to Philippe, The Original and Olvera Street — All are within walking distance from each other.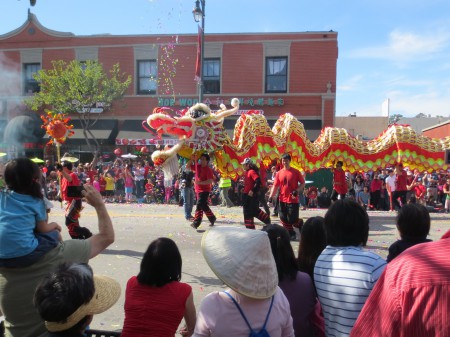 The Dragons and Confetti Poppers were the best part of the parade.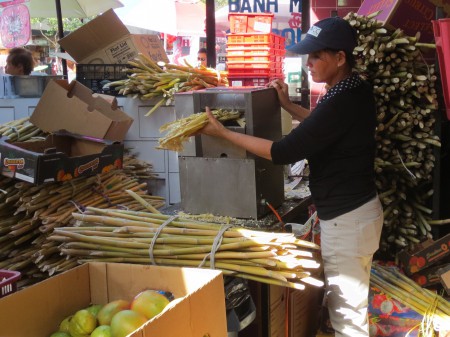 Nearby in Chinatown, Sugar Cane was being pressed — As a kid, I remember a lot of Sugar Cane being sold on Olvera Street, but didn't see any available whatsoever.  I wonder why?!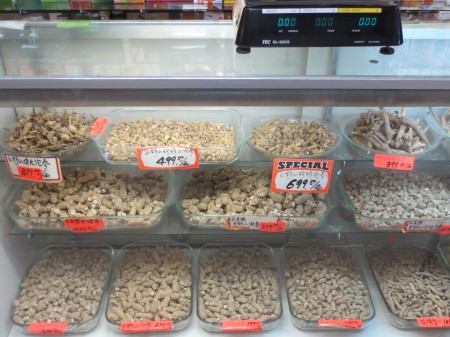 The most expensive Ginseng we saw was $899.00 per pound — Wow.
And then we went to Philippe, The Original.  It's family owned and operated since 1908.
They claim to be the Home of the French Dip Sandwich and lines can be too long.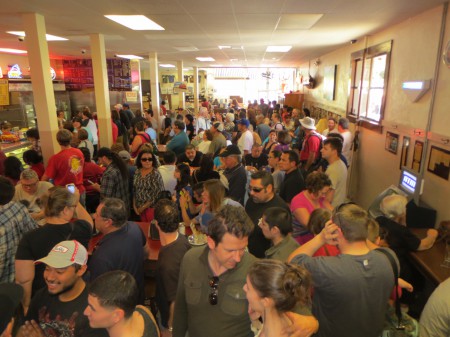 The lines are weird too — One line becomes 'pick the best of several' that lead to the counter.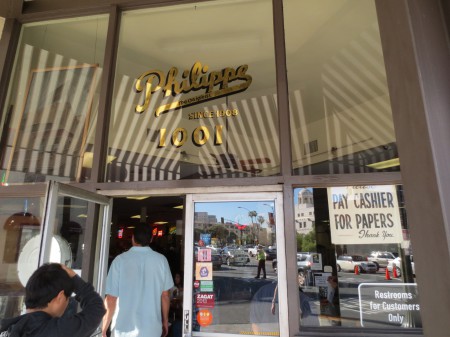 Note it's cash only — A French Dip Sandwich was once 35¢.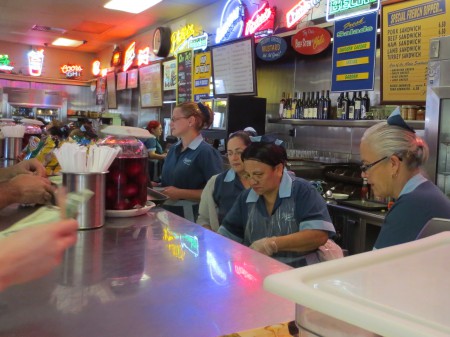 We both went with the Beef French Dip, though Philippe's offers several Meat options.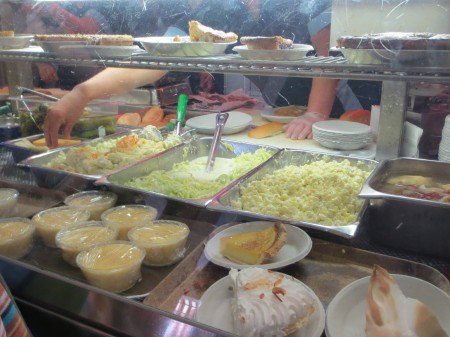 Ours was with a Pickled Egg, Cole Slaw, Potato Salad, Lemonade and Iced Tea.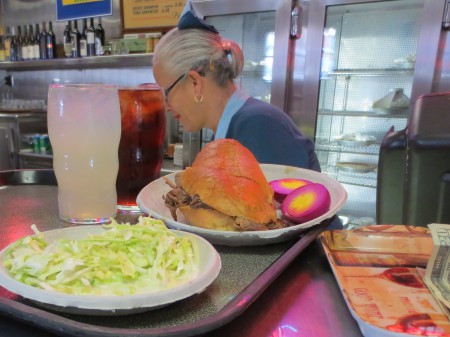 Okay, I'm sorry to say… It's just okay.  I'm not a fan of pre-dunk Bread.  It makes the Sandwich soggy.  I'd prefer to dip it with each bite.  I'm told to have it with Philippe's Mustard next time and wish I had it this day, since I'm not sure I want to stand in line for it again.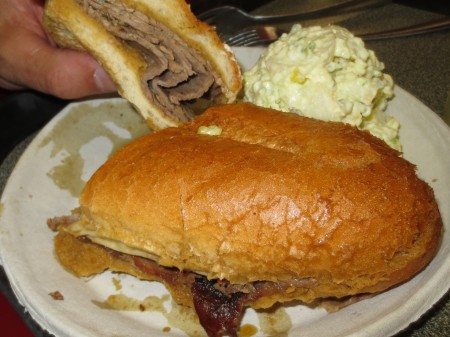 I'm happy to have tried it, which is good enough for now — We'll see about next time.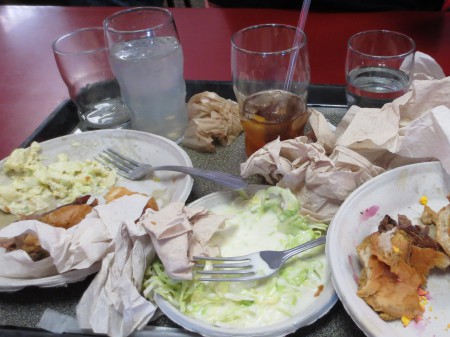 Gone with remnants of wet Bread left behind.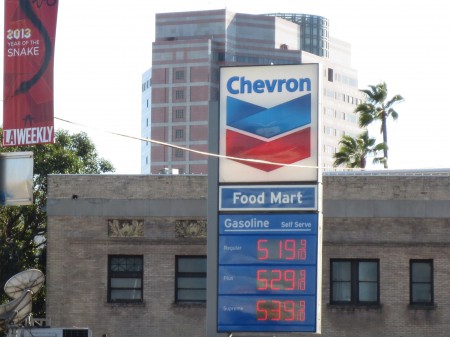 Don't get gas here (above) near Philippe's and Olvera Street — It's a bigger rip-off than usual.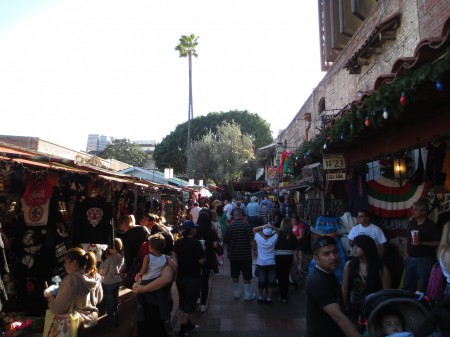 The start of one side of Olvera Street (above).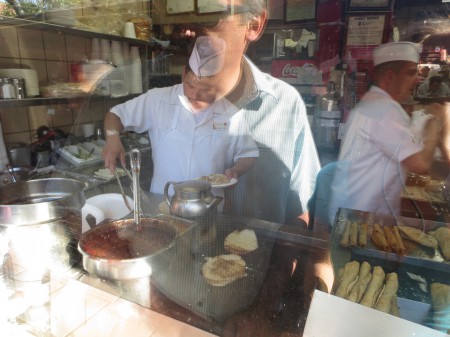 Food and reflections of today (above) and yesterday (below).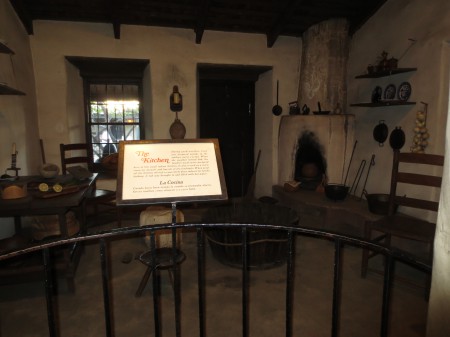 The Kitchen at Avila Adobe, the oldest existing residence in Los Angeles.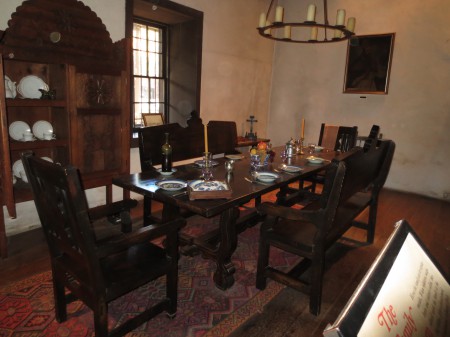 The Dining Room — I wanted to sit and eat, again.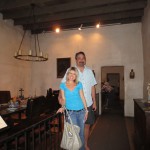 Another full day of food and fun together.