Back Bay Bistro In Newport Beach, Near Newport Dunes Resort.
We thoroughly enjoyed the $45 prix fixe meal served at Back Bay Bistro Restaurant on New Year's Eve — And we'll definitely be going back again for the Lobster Bisque.  It's one of the best we've had in a long time, due to a perfect balance of complex flavors.  Wow!
Included with the fantastic Lobster Bisque was a fresh Bistro Salad, Surf & Turf (a Petite Filet Mignon and Jumbo Shrimp served with Garlic Whipped Potatoes, Asparagus and Baby Carrots) and Chocolate Mousse with a fresh Raspberry Puree.  All was fantastic.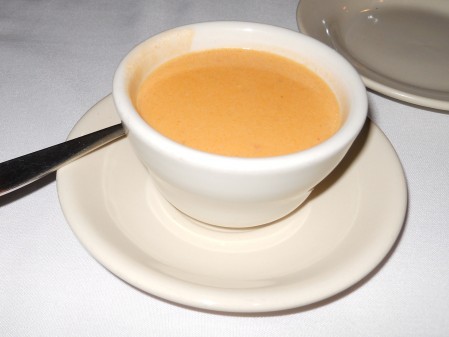 Back Bay Bistro is a little tricky to get to — It's tucked back in Newport Dunes near a boat launch.  Be careful walking over and valet parking, so not to get run over by a launching boat.  Once you're there, it's a pleasant experience.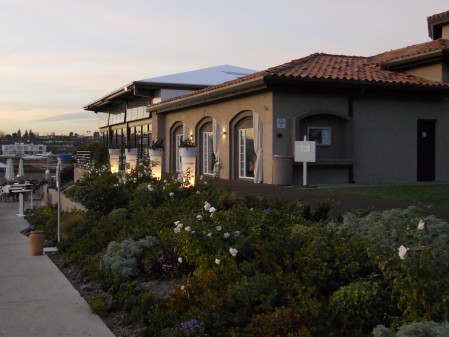 We received excellent service from everyone we encountered and were impressed by that alone.  We mistakenly arrived a 1/2 hour before the first seating and were content to hang outside, but a nice manager (Jesse) invited us in early.  That was super cool of him and on this colder evening it was a treat to be sitting inside with a glass of Merlot.
We'll be going back soon for Happy Hour — It's an all around good restaurant that's nice and airy, has interesting views, offers "dog friendly dining" on the outdoor patio, provides on-the-ball service and high quality food.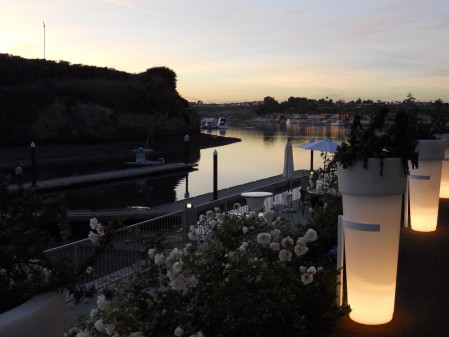 For all reasons noted above, we were happy with our decision to enjoy our last meal in 2009 at Back Bay Bistro — And we'll be heading back over in early 2010 for more.
Happy New Year from Nibbles of Tidbits in Newport Beach, near Back Bay Bistro.