Baked Eggs In Ham Cups, Aren't They Cool?!
One of the magazines I currently subscribe to is Orange Coast and in this month's issue is this amazing recipe.  It's Baked Eggs in Ham Cups with Mushrooms and Shallots by Chef Jamie Gwen.  I fell in love with the photo, and the recipe is fairly easy so I had to make it. 
The taste and homemade presentation happily lived up to my initial reaction to the magazine photo (below left).  This recipe is so delicious and impressive looking.  A yummy sautéed Mushroom mixture is layered over the Ham and under the Egg, as you can see before it's baked (below middle).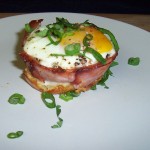 The photo and recipe in Orange Coast Magazine (April 2009) are found within a Special Advertising Section by South Coast Plaza, 13-15. 
These Baked Eggs in Ham Cups are definitely worth making, especially for company.  They'll definitely be a part of my Brunch repertoire in the future — They're too FAB!
Chef Jamie Gwen INFO: http://www.chefjamie.com/
Orange Coast Magazine: http://www.orangecoastmagazine.com/
Note:  Leave comment HERE if larger recipe print is needed.