Behind, In Front & Within The Scene: ICBINB! Wins Best Undergarment.
Food styling at the I Can't Believe It's Not Butter! "Toast to the Red Carpet – Live" event.
Behind the scenes with Food Bloggers on Oscar day at Siren Studios in Hollywood —  Cool stuff.  I had the pleasure of meeting the talented and nice people behind Food Flirt, The Duo Dishes, In Erika's Kitchen, Run Eat Repeat, Rockin' Mama, Romy Raves and ICBINB!
All dishes on set were made with I Can't Believe It's Not Butter! and the RECIPES are HERE.
A Toast to the Red Carpet by ICBINB! with Molly Sims, Carson Kressley and Brooke Burke.
Before show on set (above), and during the show in the Fantastic Suite at the W Hollywood.
Siren Studios wait area or S for Shelly — Hhhmmmm.
Leaving studio on the way to the W, just a couple blocks away.
The W Hollywood — I love its style.  More about it by Bonnie, after the Giveaway (below).
In the Fantastic Suite with Lifestyle and Food Bloggers — Thanks to ICBINB!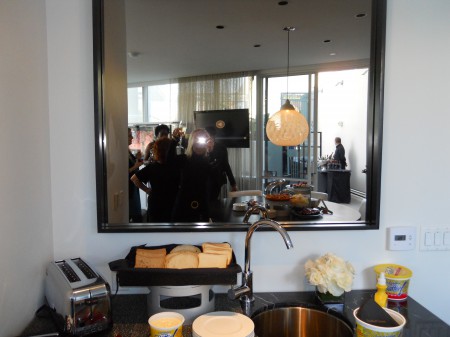 A Champagne toast in the mirror and the option of Toast with I Can't Believe It's Not Butter!
I enjoyed Toast and all dishes developed by Katie Lee using ICBINB!
More information about the dishes and RECIPES are HERE.
My favorite was the Pineapple Upside Down Cupcakes pictured above.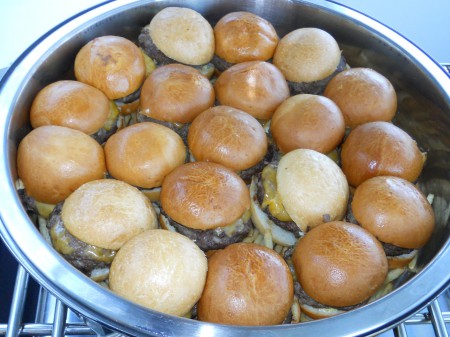 Added to all from the W were Kobe Beef Sliders (above).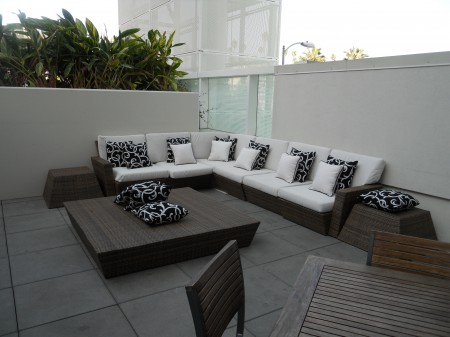 Off the Fantastic Suite was an outdoor lounge set with Beer, Wine, Champagne and Sodas.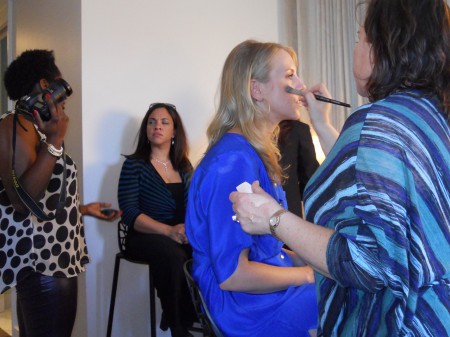 And Celebrity Makeup Artist, Terri Apanasewicz was there to give expert advice — Thanks!
And beyond the outdoor lounge was another patio across the street from the Pantages.
GIVEAWAY:
If you got through all that and still want to be entered into a DRAWING to WIN a classy Ralph Lauren Serving Tray, (4) Champagne Glasses, Wine Charms and decorative Butter Knife, do (1) of these things before March 8th ends PST.
• Like Nibbles of Tidbits on Facebook
• Leave a Comment on this Post
• Follow @FoodBlog on Twitter
We'll draw (1) name from all entries and notify him/her/you on March 9th with a CONGRATULATIONS!  You may enter once a day via any means noted above.  If you already Like Nibbles of Tidbits on Facebook (and probably don't, hahaha), a subsequent comment there or here will count as an entry.  Good luck and thanks ICBINB! Peeps.