Brasserie Pascal In Newport Beach: See Mom It Isn't A Whore House.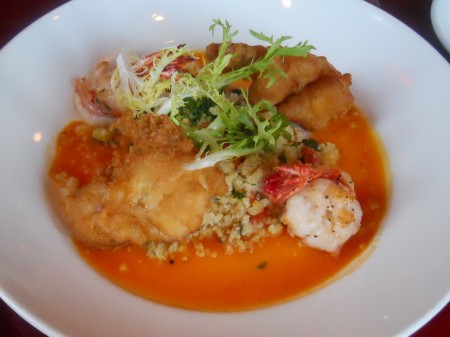 Falling in love doesn't happen often at a Whore House — What a meal and deal at Brasserie Pascal in Fashion Island.  We loved everything about it.  I tell my Mom it isn't a WH, because she laughingly called it that when I tried to get her to eat there before.  We peeked in from the outside to a sea of leather and red, part of its appeal to me.  We went elsewhere that day, but I knew I'd be lured back.  This day I finally had a Perfect 10 and more with another.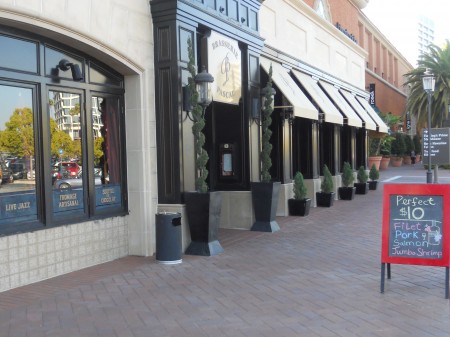 It started with a Hot Mess, a Dirty Vodka Martini with a Blue Cheese Stuffed Olive and Cajun Spiced Rim, and a Lychee Raspberry Martini times two, since only $5 during Happy Hour.
And the Perfect 10 Menu offers a selection of complete, high quality meals for $10, 7 days a week — The price and convenience make this fine dining experience repetitively tangible.
It's beautiful and jazzy inside, don't be afraid.
Before diving into the Perfect 10 we started with the Pascal Patchwork, because it's only $10 too, and happens to be an exclusive variety of remarkable food, a sampler tray of the 'Best of Happy Hour' — Blue Cheese Beef Sirloin Sliders, Homemade Pate, Grilled Cheese with Truffle Oil, Thyme Fries, Buttermilk Onion Rings, Charcuterie and Gourmet Pizza.
As if that wasn't enough, the Baked Brie Cheese on the Perfect 10 Menu for $5 sounded too good to pass up — When our meal selections arrived, our kind banquette neighbors were compelled to comment on the seemingly endless food that kept coming our way.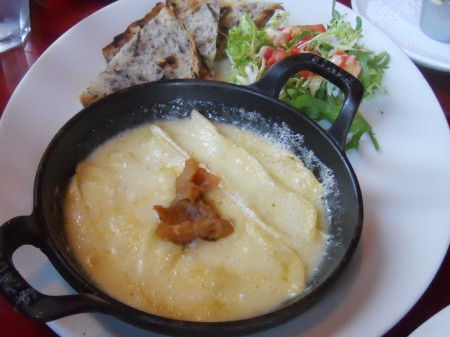 We were a bit out of control, but hungry and free to sit back and enjoy the food and live music.
And now the original enticement, the meal deal we heard about — We opted for the "Duo De Crevettes Croustillantes" aka Jumbo Tempura & Grilled Shrimp with Moroccan Style Tabouli and a Tomato Saffron Emulsion (pictured topmost), and the USDA Choice Aged Filet Mignon with Roquefort and Cabernet Sauce, Potato Au Gratin and Vegetables (directly above).
We usually don't show off a bill, as who wants any, but it's a genuine deal for all that's pictured, with 4 magnifique Martinis – A votre sante!  Are you ready now Mom?  Brunch at Brasserie Pascal (11:30am – 3:30pm) includes free flowing Sparkling French Wine.
And leftovers to stretch the deal a mile — LOVED everything about Brasserie Pascal.