Taco Dawg will be serving up new menu items starting this Halloween in celebration of their one-year anniversary.  Taco Dawg is a gourmet food truck (a popular food option these days) that puts a spin on two classics — Tacos and Hot Dogs, hence the name.  We recently tried a few at Taco Dawg's Critics Dinner 2010.  Thank you Taco Dawg!  We were happily impressed with the new and featured menu items.
All may try the pictured items for the first time on October 31st, somewhere in Irvine by day, then at the Spooktacular in Orange that evening.  Note: Since it is a truck, it's best to follow Taco Dawg on Twitter to obtain their exact location.  To learn the names of the Tasting Menu items soon to debut, hover over each photo.  Starting from the top is the Taco Papa and above is The Samurai, my favorite — We all loved its Miso Caramelized Glaze.
Above is The Hipster, Taco Dawg's first Vegetarian Taco, made with Portobello Mushrooms, Chipotle Sauce, Grilled Onions, Jack Cheese and Romaine Lettuce.
We appreciated the Beer and Wine and met cool new friends, including Taco Dawg.
OMGosh, we ate so much at this Critics Dinner.  It was on to the Hot Dogs, then back to the Tacos.  We tried The Reuben Dawg (above) and The Dirty Dawg  (below) that's piled with Homemade Chili, Nacho Cheese, Crumbled Potato Chips and Onions — Both are made with an all Beef Hot Dog.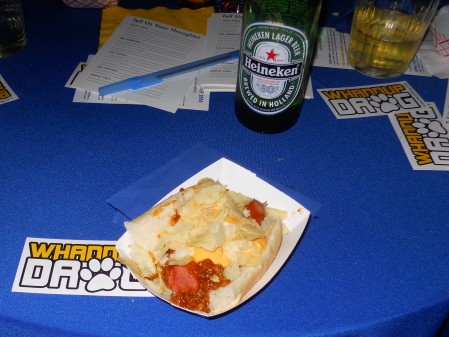 Continuing on, we tried The Big City Dawg (below).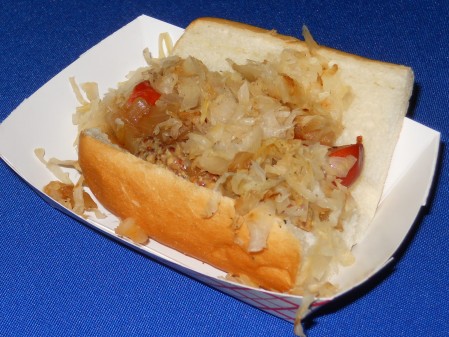 And The Cuban (below), thought to possibly be the best item of the night, at least at our table — It's a Taco variation of a Cuban Sandwich that includes a combination of Ham, Pickles, Swiss Cheese and traditional flavors.  The Cuban is the featured item of the month.  Each month, Taco Dawg will feature a special item that's not on the menu.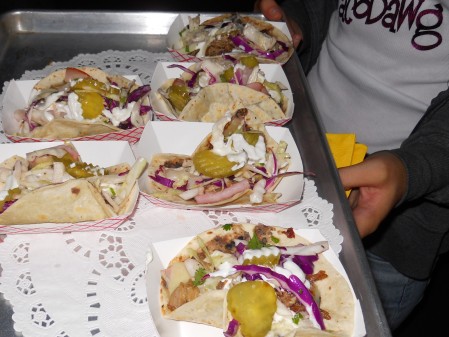 It all ended with a miniature version of their Apple Taco — It was good, but thank God it was small, since we already ate so much.  Barely had enough room.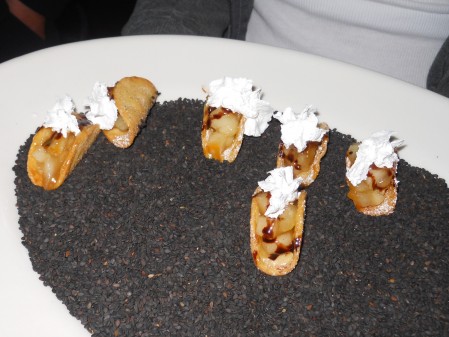 To learn more about Taco Dawg and the pictured Tacos and Dawgs, visit whaddupdawg.com and here — Their site will be relaunched next month, so check back for that.  Follow Taco Dawg on Twitter to learn their exact whereabouts.