Chilled Tomato And Cucumber Gazpacho, Not Mexican Shrimp Cocktail.
The posted RECIPE is an Award WINNER and officially named Chilled Tomato and Cucumber Gazpacho.  It's not a Mexican Shrimp Cocktail silly — Duly advised, but it reminds me of one.  Either way, it may be the best I've had.  It's fresh tasting, flavorful and super easy to make.
Chilled Tomato and Cucumber Gazpacho
3 ripe Tomatoes, cored and cut into large cubes [I seeded them]
1 Cucumber, peeled, seeded and cut into large cubes [I didn't seed it; used an English Cucumber]
1/2 Green, Yellow or Orange Pepper (or tricolor combo), diced [I used half a Green, half an Orange]
1/2 Shallot, or 1 Tablespoon Red Onion, diced [Shallot]
1/2 cup Scallions, chopped
Juice of 1 Lime
1 T. Extra Virgin Olive Oil
1 T. Worcestershire Sauce
1/2 t. Tabasco [or other hot pepper sauce, like Red Rooster, which I now like better–use 1 T.]
1/2 cup V-8 Juice [buy one small bottle at a liquor store; grocery stores only sell it by the case!]
Lemon Pepper to taste
Seasoned Salt to taste
Instructions
Combine all Soup ingredients in blender until well blended (ingredients will retain some pulp, which is great).  Pour into chilled bowls and garnish as desired.  Makes 1/2 gallon–6 appetizer servings or 3 main dish servings.  Tastes better if you make it the night before.
Garnish (with one or more)
1/2 lb. chilled, cooked Shrimp [buy the fresh $10 Shrimp tray from Costco; scarf the leftovers with the Cocktail Sauce]
1 chilled, sliced Avocado
1 T. fresh Cilantro, chopped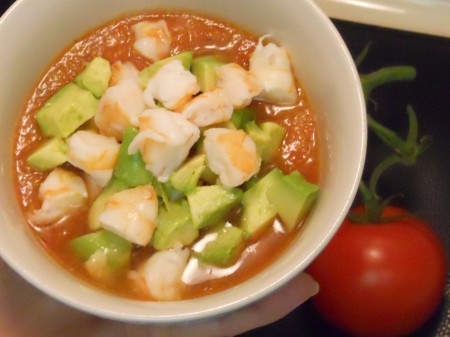 Follow and vary the RECIPE to your taste — Above [brackets] indicate specifics by Arlene T., 2011 Best Appetizer Winner.  She agreed to share all on Nibbles of Tidbits and we thank her.
I recently made the same for a Holiday Party and everyone loved it well chilled in a cup.