Christmas Party Appetizers And Dessert Ideas With Photos.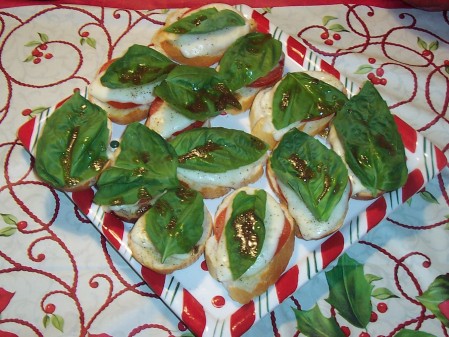 Every first Friday of December, I host a Girl's Christmas Party and this year was my 15th annual.  Guests are asked to bring an appetizer, salad, soup or side dish and a $25 value gift for a crazy gift exchange.  A prize and ribbon are awarded to the person bringing the best voted appetizer.  This year's winning appetizer is posted above and the runner up is below.
In addition to the winning appetizers, we've posted several others to provide a few ideas for your Christmas Party.  Everything was yummy and I'm much appreciative for all contributions.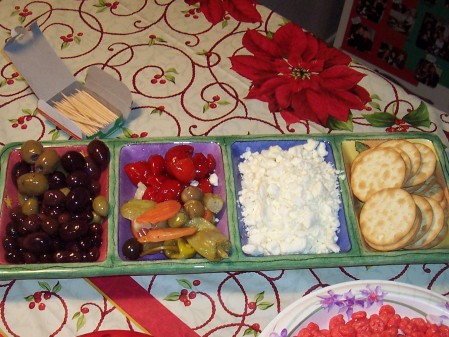 We enjoyed baked Bruschetta with Mozzarella, Tomato, Basil and Balsamic Vinegar, homemade Guacamole and Chips, Antipasto, Vegetables with Ranch Dip, Chips and Onion Dip, Chicken Wings, Hummus with Pita Chips, a Chopped Salad, Spring Rolls, Buffalo Mozzarella with Tomato and Basil, and much more.  Some dishes aren't pictured due to photo quality.
Dessert preparation is deligated to the best baker in the bunch, Loretta of Nibbles of Tidbits' Cookie Decorating fame.  She made a few of our old time favorites for all to enjoy.
Dessert included a homemade Chocolate Cake with Frosting piped using my favorite decorating tip (hair tip), Magic Bars and Lemon Squares.  Loretta receives a prize every year for her amazing efforts.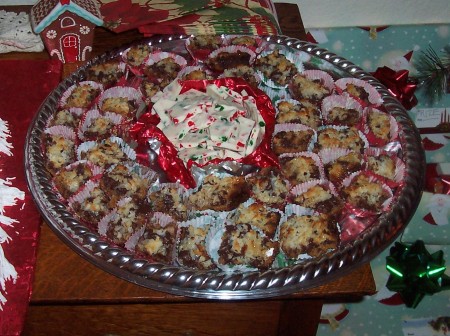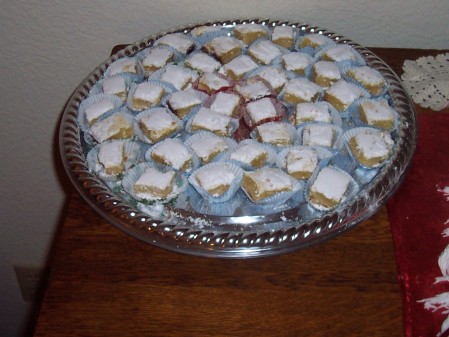 The past couple years money was saved on a tree, due to the display of our adorable Charlie Brown Christmas Tree.  Champagne flows along with the availability of a semi-full bar and lots of Bottled Water.  And poster boards are accessible to view party photos from all previous years.
This year I pulled out an American Idol Microphone to facilitate the party along.  We (I) had a fun time with it — It's a great way to get your guest's attention to coordinate the games, the gift exchange and appetizer vote submissions.  We usually end the party with a group photo to be viewed on next year's poster board.  Unfortunately two left before we remembered to take our 2009 photo.  To view last year's par-tay highlights, click here.  Merry Christmas!