Come & Get It For 23 Days: See What's New And What's Always There.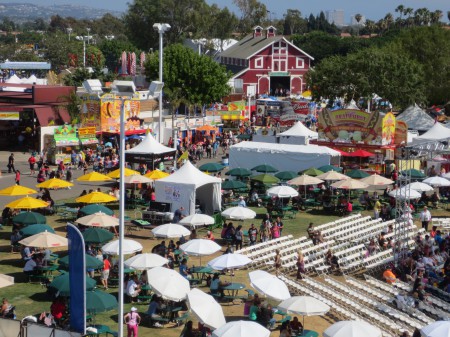 It's All About the Food at the 2013 OC Fair (July 12 – August 11, 2013)
Days of Deep-Fried Food, Celebrity Chefs, Decadent Desserts & Culinary Competitions
Just as dinner bells would call hard-working farmers to the table for meals, the OC Fair is ringing the metaphorical dinner bell for Fairgoers to "Come & Get It" July 12 to August 11, 2013. With plenty of food vendors and culinary activities, the OC Fair has something for every palate. Here's what the Fair is cooking up this year:
• Chicken Charlie: Chicken Charlie is churning out new food with Krispy Kreme Sloppy Joes, Deep-Fried Bacon-Wrapped Pickles and Waffle Dogs (a hot dog wrapped inside a waffle and all on a stick). Plus, don't miss deep-fried cookie dough!
• Bacon A-Fair: This year's new additions at Bacon A-Fair include Truffle Gouda Bacon Fries, Bacon Beer (root beer) and Cheesy Bacon Bombs. Plus, wild boar bacon on a stick will be served exclusively at the OC Fair.
• Biggy's Meat Market: Channel your inner cave man (or woman) and come to Biggy's Meat Market for the returning 17-inch The Big Rib plus the new Biggy Sausage, a 2-foot-long smoked sausage on a stick, and the Big Chic, 24 ounces of chicken breast on a stick of course.
• Ten Pound Buns: The mad scientists at Ten Pound Buns have added ground bacon, whipped butter and Nutella on top of their famous sourdough "pizza" for the Bacon Nutella Bun.
• Pink's Hot Dogs: Long known for their innovative hot dogs named after celebrities, the Ghiradelli hot dog takes it to a new level. It is a beef dog topped with cream cheese, honey mustard, crumbled bacon and dark chocolate.
• More New Food: There are new tastes to be found throughout the OC Fair this year including deep-fried strawberries, a macaroni and cheese hamburger, fried bacon ice cream, deep-fried lobster, cream cheese on a stick, mango & chamoy popsicle (spicy-sweet lemon chile flavoring), heart-shaped funnel cake, Dirty BBQ Tasti Chips and more.
• OC Fair Foodies: New this year the OC Fair is introducing food-themed mascots including Scoop, Carl, Dip and their foodie friends all inspired by iconic Fair and farm foods such as ice cream cones, cotton candy, corn dogs, vegetables, fruit and more. Costumed characters, plushes and signage will be representing the foodie friends throughout the Fair.
• $2 Taste of Fair Food: Every Friday from Noon-4 p.m., Fairgoers can sample the best the Fair has to offer for only $2 each sample. Fun-sized samples include funnel cake, BBQ tri-tip, lemonade, cinnamon rolls, corn dogs, tacos, gelato, cotton candy and more.
• Celebrity Chefs: The 2013 OC Fair presents two shows in The Hangar featuring charismatic celebrity chefs demonstrating their culinary prowess. Scheduled appearances include the owners and chefs of the award-winning La Casita Mexicana Restaurant Jaime Martin del Campo and Ramiro Arvizu (July 20, 4 p.m.) and award-winning chef and owner of Bottega in Napa Valley and Coqueto in San Francisco Michael Chiarello (August 1, 4 p.m.) Free with Fair admission.
• Culinary Presentations: In addition to celebrity chefs, the 2013 OC Fair is also featuring local professional chefs from some of the county's top local restaurants and other culinary artisans in the OC Promenade. Presentation days and times vary.
• Food Truck Fare at the OC Fair: On top of traditional and new Fair foods, Fairgoers can purchase gourmet fare from their favorite food trucks from inside the OC Fair gates every Thursday from Noon-10 p.m. Access is free with Fair admission and prices for food and drinks vary per truck.
• Kitchen Challenge: Watch local culinary professionals show off their chops and go head-to-head in a series of live cooking challenges set to various themes every Thursday in the OC Promenade: Meatheads (July 18), Time to Make The Donuts (July 25), Firehouse Chefs (August 1) and Vegan (August 8). Winners will receive bragging rights and an award to commemorate their culinary victory. Viewing is free with Fair admission.
• Contests and Competitions: Most of the traditional Culinary Arts competitions have closed their registrations but the Culinary Arts department is again hosting live contests that offer late registration with the Special Culinary Contests held the last four Saturdays, including the popular OC Cupcake Classic on August 3. Registration for these contests is the Wednesday before each contest. New this year is the Salad Daze contest, which is judging for the best picnic-ready salads. For a complete list, visit ocfair.com/competitions.
• Food As Art: Chef Ray Duey is an acclaimed food sculptor who was a gold medal winner from the Food Network's Challenge Team and will be creating works of art out of fruits and vegetables daily in the OC Promenade. Award-winning Shaile Socher creates masterful floral arrangements out of sugar and will be demonstrating her intricate and dazzling talent in the OC Promenade daily. Demonstrations are free with Fair admission.
• Centennial Farm: Experience being home on the range in this year-round, three-acre demonstration farm complete with crops, livestock and the Millennium Barn. Check out educational exhibits, agricultural organizations and the fruit and vegetable competitive entries. Visit ocfair.com/competitions for details on the Garden and Floral competitions offered.
The 2013 OC Fair, themed Come & Get It, is July 12 – August 11 and brings 23 days of food, rides, exhibits, animals, music, action sports and fun, as well as the Toyota Summer Concert Series at the Pacific Amphitheatre, The Hangar and Action Sports Arena. The Fair is open Wednesday-Sunday. Concert tickets, action sports reserved seats and single-day general admission are available for purchase online at ticketmaster.com or from the on-site Box Office. The popular Super Pass, which offers the passholder 23 days of admission, is available for purchase online at ocfair.com from the onsite Box Office.
The OC Fair & Event Center is located off the 405 and 55 freeways at 88 Fair Drive in Costa Mesa. For more information, please visit ocfair.com, become a fan at Facebook.com/OCFair, follow them at twitter.com/ocfair or call (714) 708-1500. Also, download the free OC Fair iPhone and Android apps featuring a Food Finder and schedules of events.
Source:  Press Release from The OC Fair & Event Center (above).