Congratulations SONIC Drive-In Gift Card Winners.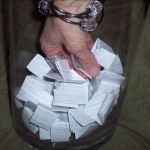 First, thanks to ALL who entered.  I wish I could give each of you a $25 Gift Card to SONIC Drive-In.  It was my pleasure hosting this contest and I hope to present more great FOOD Giveaways in the future on Nibbles of Tidbits — Keep checking back.  Until then, this time the (10) lucky WINNERS are…
 
1.)  Katie D. (Reno, Nevada)
2.)  Shannon C. (Bondville, Illinois)
3.)  J (Bakersfield, California)
4.)  JC (Norwalk, California)
5.)  E-Dawg (Cypress, California)
6.)  Kristen (Gilbert, Arizona)
7.)  Erin DiCarolis (Melbourne, Florida)
8.)  Pam (Rancho Cucamunga, California)
9.)  Richard Halvorson (Graham, Washington)
10.) Andrea Bohn (San Clemente, California)
We'll be contacting you to learn where to send your Gift Card.  It's time to eat.  Thanks to all participants and sponsors.  It's been fun.
Related Link: http://www.ineedtext.com/FoodBlog/2009/06/18/win-a-25-gift-card-to-sonic-drive-in/