Cooking Demonstrations At Bloomingdales SCP.
Today Orange County Restaurant Week kicked off its pre-event festivities with the first of 13 Cooking Demonstrations to be held at Bloomingdale's Home Store, South Coast Plaza.  Chef De Cuisine Brian Black of The Loft at The Montage Laguna Beach prepared Barbecue-Braised Laughing Bird Shrimp with Warm Winter Citrus Vinaigrette, Spinach and Pine Nuts.  It's one of the dishes to be offered during the inaugural Orange County Restaurant Week, February 22-28, 2009.
Participating restaurants will be serving three-course pre-fixe lunches for $10 & $20, and dinners for $20, $30 and $40.  During that time and leading up to it, select Chefs will demonstrate how to prepare dishes featured on their respective OC Restaurant Week menus.  It's a good way to sample a few items and see how they're made.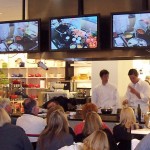 The related Demos started today and will continue through the end of  OC Restaurant Week.  We'll hopefully see and taste more.  Chef Manny Gomez of Ruth's Chris Steak House Irvine will be making Sweet Potato Casserole and Creamed Spinach at Bloomingdale's Home Store on February 19 — That's of interest.  The rest of the schedule and more information is linked below.
Orange County Restaurant Week INFO:
http://www.orangecountyrestaurantweek.com/
Laughing Bird Shrimp INFO:
http://www.wedge.coop/meat/meat-sustainable-shrimp.html