Drinks And Appetizers At The Balboa Bay Club & Resort.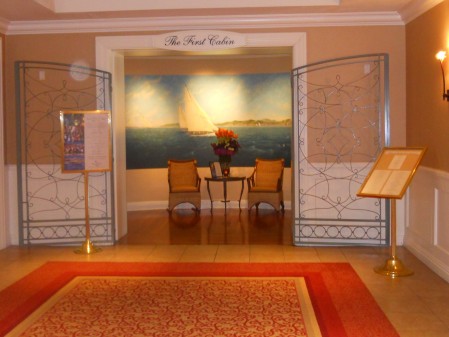 I stopped in to visit a friend staying at The Balboa Bay Club & Resort — She decided to treat herself for a couple days while having work done on her house.  And for a couple hours I pretended to be on vacation too, even though it's pretty much down the street in Newport Beach.  Pictured above is the entrance to The First Cabin.  We haven't yet dined there, but admire its beautiful entry.
This visit we had appetizers on the outdoor patio at Duke's Place.  Neither restaurant at The Balboa Bay Club & Resort is inexpensive, but valet parking is free with validation, and the basic items we tried were indeed more tasty than they are at other restaurants — Both in conjunction with the view help to sweeten the deal.
We like all the appetizers listed on Duke's Place Cocktail Lounge Menu (even the Escargot).  This day we tried the Tempura Fried Crispy Spring Asparagus, which was made with White Asparagus and served with Lemon Garlic Aioli and Ponzu Dipping Sauce.
And we had the Panko Crusted Chicken Fingers — Although the Chicken Fingers look typical, the Chicken was fresh tasting, extra crispy and light, as it should be.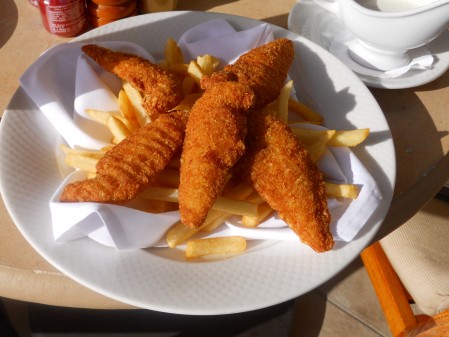 Click HERE for more information about The Balboa Bay Club & Resort.