D'Vine: A Fresh & Authentic Mediterranean Experience In Fullerton.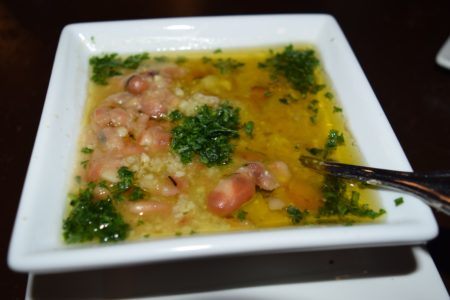 D'Vine Restaurant in Fullerton — Somehow it feels hidden, though it's within plain sight in the heart of downtown Fullerton, an area hosting some of the best restaurants in Fullerton.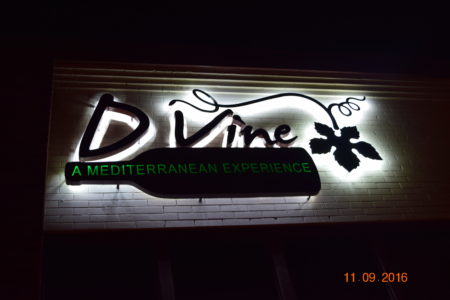 It has been open a few months and I'm glad to finally try it.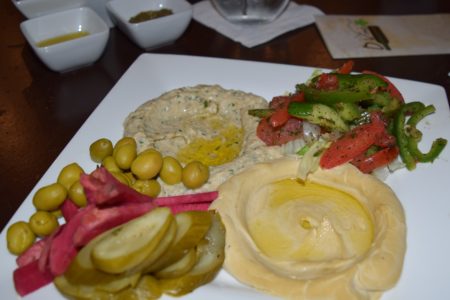 D'Vine is a gem and its Master Chef Owner, Walid Alarja is a Star.  His food is truly authentic, fresh and flavorful — Love of food, cooking, and years of worldly experience are behind each and every ingredient and dish.  An authentic Mediterranean experience is created, as the D'Vine sign says.
Pita Chips, Olive Oil and a Spice mixture of Thyme, Sumac, Sesame Seeds, Salt (and maybe more) are served upon arrival — I like that.  All is house-made, dried, baked, mixed, toasted, etc.
First Dip the Pita Chip into the Olive Oil and then in D'Vine's Special Spice Mixture.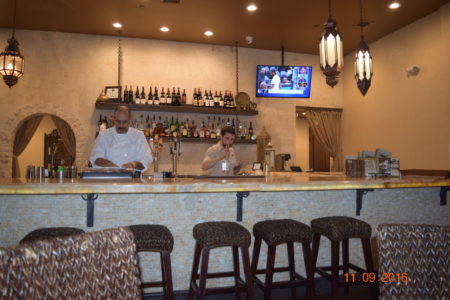 This is D'Vine's second location.  The other one is in Brea — It's been open for about five years.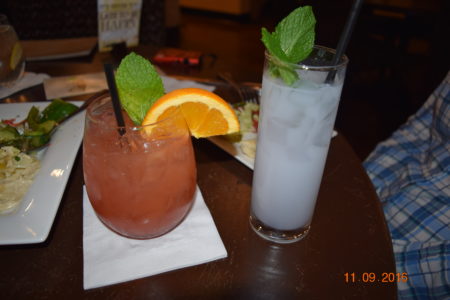 I had Arak on the Rocks with Water (above right) — Arak is a traditional drink in the Middle East. We tried it and a Mediterranean Cooler (above left) and both ultimately wanted the Mediterranean Cooler.  Though I knew Arak to have an Anise flavor, it punched us in the face, ha.  It was a flashback to my Jagermeister college shot days.  Not the best choice to compliment this wonderful meal, but fun to try it.  D'Vine offers several Signature Drinks and a full bar of options.
We also shared the Kefta made with grilled ground Beef and Lamb, finely chopped Onions, Parsley and House Spices, along with their Red Cabbage Salad — All Entrees are served with your choice of (1) one of D'Vine's Cold Mezza's (they make and offer 14), Rice and Pita Bread.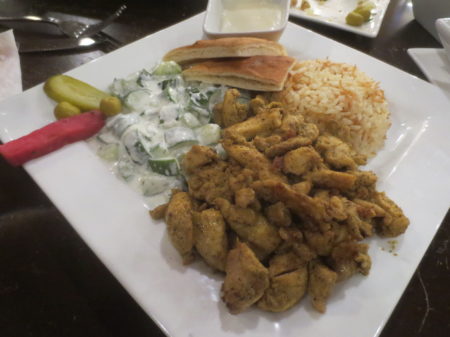 We enjoyed D'Vine's Chicken Shawarma made with grilled, thinly sliced marinated Chicken Thigh Meat, with their Cucumber Yogurt Salad.  Walid even makes his own Yogurt.  He is quite impressive.  We were honored to meet him and taste why we should go back.
It's very nice inside with a long bar, and tall and short tables.
There's a sometimes smoking area (above) that leads out to a large outdoor patio.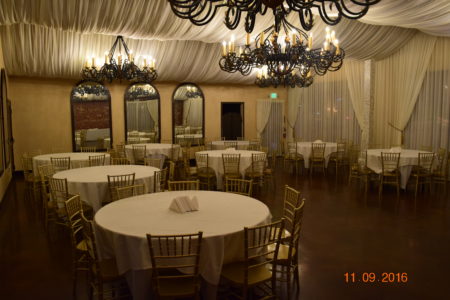 And there is a beautiful room (above) for events of all kinds.  It could be a perfect venue for a wedding reception with < 120 people.  It's attractive and serves great food, which is sometimes hard to find in a venue.  This room makes me want to have a party.  Cheers to all parties there!
And finally, there is Fool (top photo) — Of course I loved it.  Fool is offered under D'Vine's Hot Mezza's.  It's seasoned Fava Beans with Lemon, Garlic, Olive Oil and Jalapenos.  It's so flavorful and great with Pita Bread.  It's what I want most again.  I also have much respect for Walid's Turshi, house-made Pickles, Olives, Beets, Turnips, etc.  All were better than imagined and well flavored.
Note:  Apologies for the date stamp on some photos (above).