Easter Cookie (And Goodie) Decorating Ideas: Happy Easter.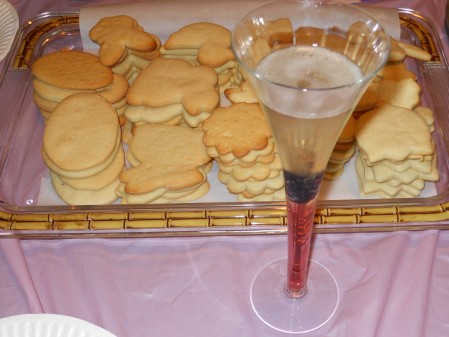 As you may or may not know, the Nibbles of Tidbits' Cookie Crew decorates Cookies every major holiday.  Happy Easter!  This year our lovely host, Loretta single-handedly made Cupcakes, Chocolate Dipped Oreos, Chocolate Dipped Graham Crackers and White Chocolate Bunny Lollipops.  The rest of us decorated Sugar Cookies, after toasting with a glass of Champagne and Chambord.
Decorating Cookies (and other goodies) is a fun way to spend time with friends and family, then you (and related lucky recipients) get to eat 'em.  Prior to preparation, we had Fish Tacos, a Wedge Salad, Hummus, Bruschetta and Pita Chips — Creative expression flows with a full stomach.
To provide the latest decorating ideas (although somewhat amateur), we post photos after every gathering.  And now all is on Nibbles of Tidbits as a handy reference to be utilized each year.
Happy Easter from the Nibbles of Tibdits' Cookie Crew (below), two (Nora and Patty aka Tricia) are not shown in the photo — Pictured (l-r) are Loretta, Kim, Michelle and Shelly (me).
Jesus is the reason for the season!