Eating, Drinking, Dancing & Demolitioning In The New Year.
We had such a great time at the OC Fair New Year's Eve Block Party.  There was much to do, see and eat and the VIP Lounge started it off just right.  The set up was cozy and warm with several couches and heat lamps arranged throughout.  I'd go back next year for the same.  They did a great job — It was relaxed, manageable, stimulating, hospitable and filling.
Certain Food Truck Appetizers were served in the VIP Lounge during the first hour — From The Greasy Weiner we had the above which was good, but we really wanted the Bacon Wrapped Hot Dog that seemed to elude us.  We didn't get the few that were served during the limited time.  Bummer.  Oh well, on to other food.
Our favorites offered in the VIP Lounge were the "Gumbolaya" and Chicken & Sausage Gumbo served by Ragin Cajun Cafe on Wheels.  Their servings were generous, spicy and tasty.
Piaggio Gourmet on Wheels was serving Empanadas.
Adult Chocolate Milk and Monster Energy Drinks were a couple of the sponsors.
The Moo Girls were handing out Adult Chocolate Milk and Chocolates flavored the same — It tastes like a White Russian, which I like.  And the girls were really sweet too.  Can you tell which one is me? 😉
The guy being interviewed below is a Blasphemous Rumours band member/singer for the Depeche Mode tribute band scheduled to play later on the 80's stage.  Their couch happened to be next to mine.
Wine Garden VIP Bar.
Hover over all photos to learn more.
The Burnt Truck offerings — A smiling face and juicy Sliders.
I want these Sliders again.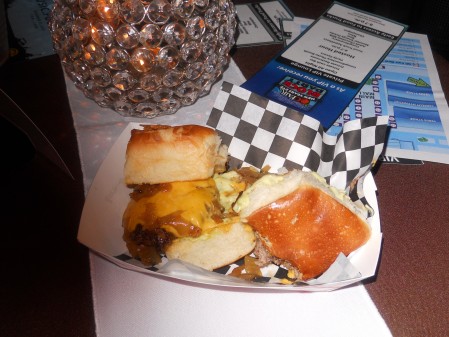 I didn't have a Tornado Potato, but they looked pretty good.
More Tornado Potatoes swirling in the new year.
Dead Man's Party, the Oingo Boingo tribute band playing on the 80's stage.
Comedy Hypnotist Show.
Do you recognize these characters from the OC Fair?
The New Year's Eve Bash Demolition Derby.
I think the objective is to bash into each other until you can't start your car anymore.
It was a little hard to tell what was going on officially, but it looked cool.
There were several trophies being handed out and one big winner (below right), I think.
And Karaoke at Baja Blues — This guy wasn't too bad.
Peeking in on Crepes Bonaparte, who had the longest line we saw this night.
And below is the Rajin Cajun Cafe on Wheels, who also participated in The Great Food Truck Race on the Food Network.  They were eliminated in week two.
We liked The Flip Truck menu and meant to mosey on back to try 'em, but forgot.
Perhaps another time for The Flip Truck — Pondering.
Jumping Jack Flash, The Rolling Stones tribute band playing on the 60's stage — They interestingly had the largest crowd approaching midnight.  I loved their look! 
Also in the VIP Lounge was a complimentary Photo Booth to take as many photos as you like.  What fun!  I took the one below with a couple cool new friends.  Thank you and Happy New Year — So many nice people out this 2010/2011 evening.
Near the Main Mall at midnight, in the right place at the right time — A good way to start 2011.
FREE Ferris Wheel and Super Shot Free Fall Rides were happening all night long.
God Bless America.