Enter To Win a GIANT Panettone Just In Time For Your Holiday Party.

You've most likely seen the large Panettone boxes in stores over the years, especially around the holidays.  It's been somewhat of a peripheral thing for me, because I'd never tried it, nor really known much about it.  I've since learned that Panettone is a Classic Italian Sweet Bread, that takes about 52 hours to make — Each tall domed loaf is made with love.  I was recently offered the opportunity to try Bauducco's Panettone.  They make one with Hershey's Chocolate Chips and another with Candied Papaya, Lime, Orange and Sun-Maid Raisins.  And to be honest, at first I wasn't sure if I wanted to try 'em.  I'm not much of a Bread person and thought the Fruit version may be likened to an Old-Fashioned Holiday Fruit Cake, the kind many of us have avoided over the years.  I now know that Panettone is much better than that and shouldn't be compared to the aforementioned we all shun — Happily, it's completely different.  It also has an underlying Orange flavor that I really like.  I'm now a Panettone lover. 
Unlike the long-established American-style Fruit Cake, Panettone is light and airy with Fruit pieces spread throughout.  It's not dense, nor heavy and hard.  It can be enjoyed by tearing away the sweet layers — But if you're still weary of Bread containing Fruit, start by giving the Chocolate Chip one a try.  Both are great alone or terrific when used to make French Toast or Bread Pudding.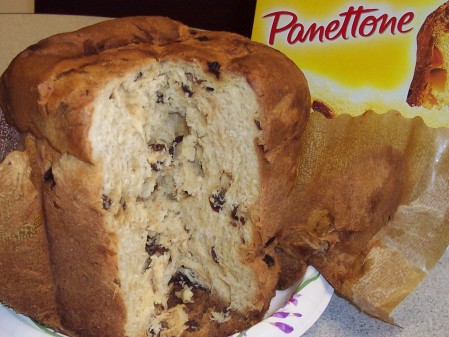 ENTER A COMMENT to possibly WIN a 9 Pound Panettone (8.8 to be exact).  The ones generally seen in stores are large enough at 2 Pounds (1.64 to be exact), thus the 9-Pounder is gigantic.  The winner will receive a 9lb. Bauducco's Fruit Panettone and a 2lb. Chocolate Chip Panettone.  The GIANT Panettone could make quite the impression at your holiday party this year.  Just leave a comment on this post to be entered into a drawing to have both shipped to you ASAP.
Note:  You may enter this giveaway once a day from now until Sunday, 12/13/09 Midnight Pacific Time — Random drawing winner will be announced shortly thereafter and the Panettone sent when shipping information is obtained.  Good luck to all!
UPDATE (10/13/09):  Contest will close in a little over an hour and a winner will be announced on 10/14/09.
UPDATE (10/14/09):  And the winner is…