Fantasy Springs Buffet In Indio — So Far It's Our Favorite Buffet.
Just went to Fantasy Springs Resort Casino for the day.  It was our second time having their amazing Buffet.  Continuing our tour of local Indian Reservation Casinos and Buffets, so far this one is our favorite.  They seem to offer everything you'd want and all was fresh and delicious during both visits.  This is our first report with photographs.  The Brisket (above) and the Turkey (below) were especially good, perfectly cooked and carved to order.
They offer almost every ethnicity and type of food — American, Italian, Chinese, Mexican, Salads, Soups, Fresh Fruit, Grilled Vegetables, Cheese and much more.  We captured a lot, but certainly not all.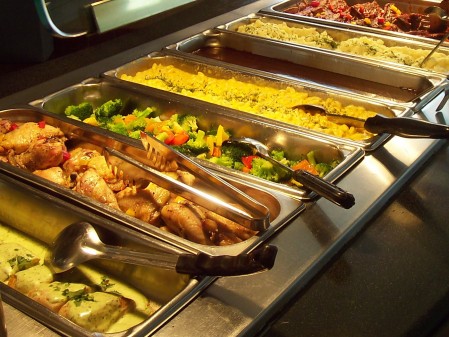 And almost every Dessert imaginable, Ice Cream, Bread Pudding, Cheesecake, Pies, Cakes, Cobblers, a Chocolate Fountain and more.
Our lunch this day was only $12.99, which isn't bad for all you can eat — Unfortunately we could only eat so much.  We wished we could take home doggie bags. 🙂
Below is a photo of only one of our plates — We were stuffed and happy by the time we hit the video poker machines.  And we didn't do too bad at that either.  Fantasy Springs entertainment line-up is pretty good too.  We learned that Morrissey will be playing there on December 5th and are considering going to that.
Check out Nibbles of Tidbits' Buffet category to see where else we've been.  Thumbs up for Fantasy Springs Resort Casino Buffet.