Food Network's Down Home With The Neelys, Pat's Smoked Sausage & Pepper Sandwich.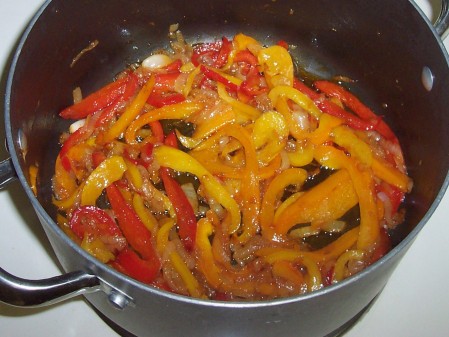 Patrick and Gina of TV Food Network's Show Down Home with the Neeleys are so cute — They have a lot of fun together centered around food.  Their happy interaction and enjoyment made me want to make Pat's Sausage and Pepper Sandwich, and I'm generally not a fan of Sausage Sandwiches.  Another appeal is the Beer in the Sauce.  And since I didn't have Neely's BBQ Sauce (in the recipe), I used Lucille's BBQ Sauce. 
I went to Henry's Farmers Market for the Sausage — They didn't have a Smoked Sausage, but the Butcher highly recommended the Pork Sausage  over the Turkey, when asked the difference between the two Sweet Hot Italians.  As a substitution, I opted for the Pork and was glad it was $1 less a pound.  And I ended up with Potato Rolls that were toasted inside. 
RECIPE: http://www.foodnetwork.com/recipes/patrick-and-gina-neely/pats-smoked-sausage-and-pepper-sandwich-recipe/index.html
Confession:  It wasn't until after the preparation of this recipe did I realize that I misunderstood and used the wrong type of Sausage.  The key word is "smoked" and I used fresh Sausage.  A Kielbasa in a vacuum pack may have been better, especially since casings gross me out.  Good thing I cooked the Sausage well done.  And I cooked all ingredients longer (except the Garlic) than noted on the above linked recipe.  Onions are always best caramelized and the Peppers were added after the Onions cooked a bit.
Overall, it's a great recipe — The Sauce turns out pretty tasty.  I now wanna make it with a Kielbasa, and might not eat it on a Sandwich.  Luckily all who tried this preparation liked it.
Where to buy Neely's BBQ Sauce:
http://www.neelysbbq.com/home.htm