For The Love Of Food: Chef Sevaly Can't Stop Cooking And Sharing.
Our traveling Guest Blogger and Newport Beach Interior Designer, Bonnie provides her experience meeting Chef Sevaly and reports about his future after The Cooking Store…
What's cooking at The Cooking Store? It was billed as a "Pre-Valentine's Day Romantic Dinner," but the meal served by uber-talented Executive Chef and Owner, Robert M. Sevaly, was actually enjoyed by us three girls, along with about 20 other cooking enthusiasts, for lunch on Sunday. On the menu was a delightful mixture of ingredients.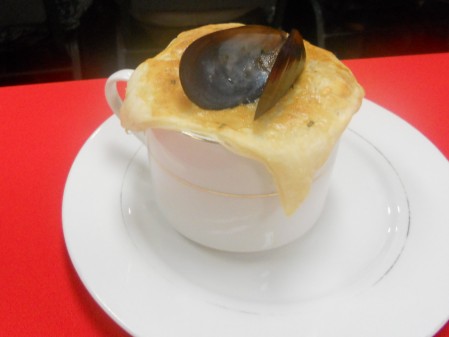 Mussel Bisque – According to mythology, the goddess of sensuality Aphrodite was born in the sea so it is no surprise that many kinds of seafood are considered natural aphrodisiacs. Mussels are a popular shellfish that for centuries have been considered an aphrodisiac. Now science can back up those claims as studies show that there are chemical compounds in mussels that release sex hormones such as testosterone and estrogen.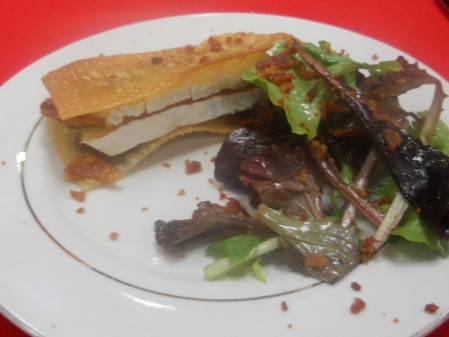 Caramelized Onion, Bacon and Brie Napoleon – The recipe for this sexy combination is noted below.
Napa Valley Flat Iron Steak
Shoestring Potatoes
Herbs de Provence Mashed Potatoes
Grilled Vegetables
Chocolate Dipped Strawberries
Molten Lava Cake and Flirtinis
It was quite an experience watching and listening to Chef Sevaly create this extravaganza! Everything was absolutely delicious, and at the end of the three-hour-long demonstration, we came away quite satiated.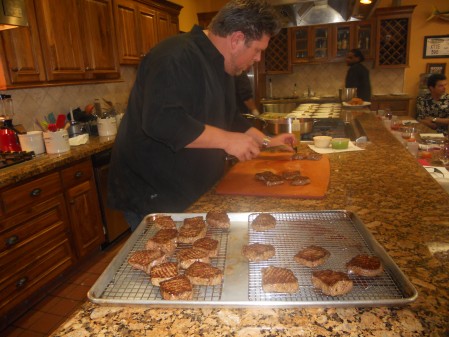 If you have never been to The Cooking Store before, now is the time to go as it is closing at the end of April due to the Chef's aversion to the retail environment. He still plans on in-home demonstrations and catering of private events. And while Chef Sevaly doesn't know if another school is in his future, he is actively seeking investors, and you can bet that he will attract them, whatever his next adventure is.
Caramelized Onion, Bacon and Brie Napoleon Recipe
1 pack Wonton Skins (cut into 4's)
1 wedge Brie (cut same size as wontons)
1 package Bacon (cooked in the oven and then cut to the same size as the wonton)
2-3 Onions (minced)
Oil for frying
2 tablespoons Brown Sugar
3 tablespoons Honey
Salt and Pepper
Fist measure out the ingredients and complete the knife prep in the above list of ingredients. Use the bacon fat to caramelize the onions nice and slow then add the sugars and set aside. Cook the wontons in a small amount of oil so they stay flat. Build the napoleons by layering a wonton, cheese, onion, bacon, onions, and wonton. Place into a 200 degree oven just to melt the cheese, then serve.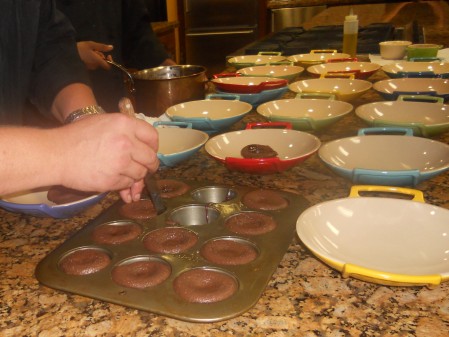 Thanks to Bonnie for the above report and photographs.  I hope to encounter Chef Sevaly someday.  We'll later provide a contact for him.