Good Eating Makes Camping More Fun.
Our MENU included Rib Eye Steaks cooked Medium Rare – Traditional camp fare for many cowboys.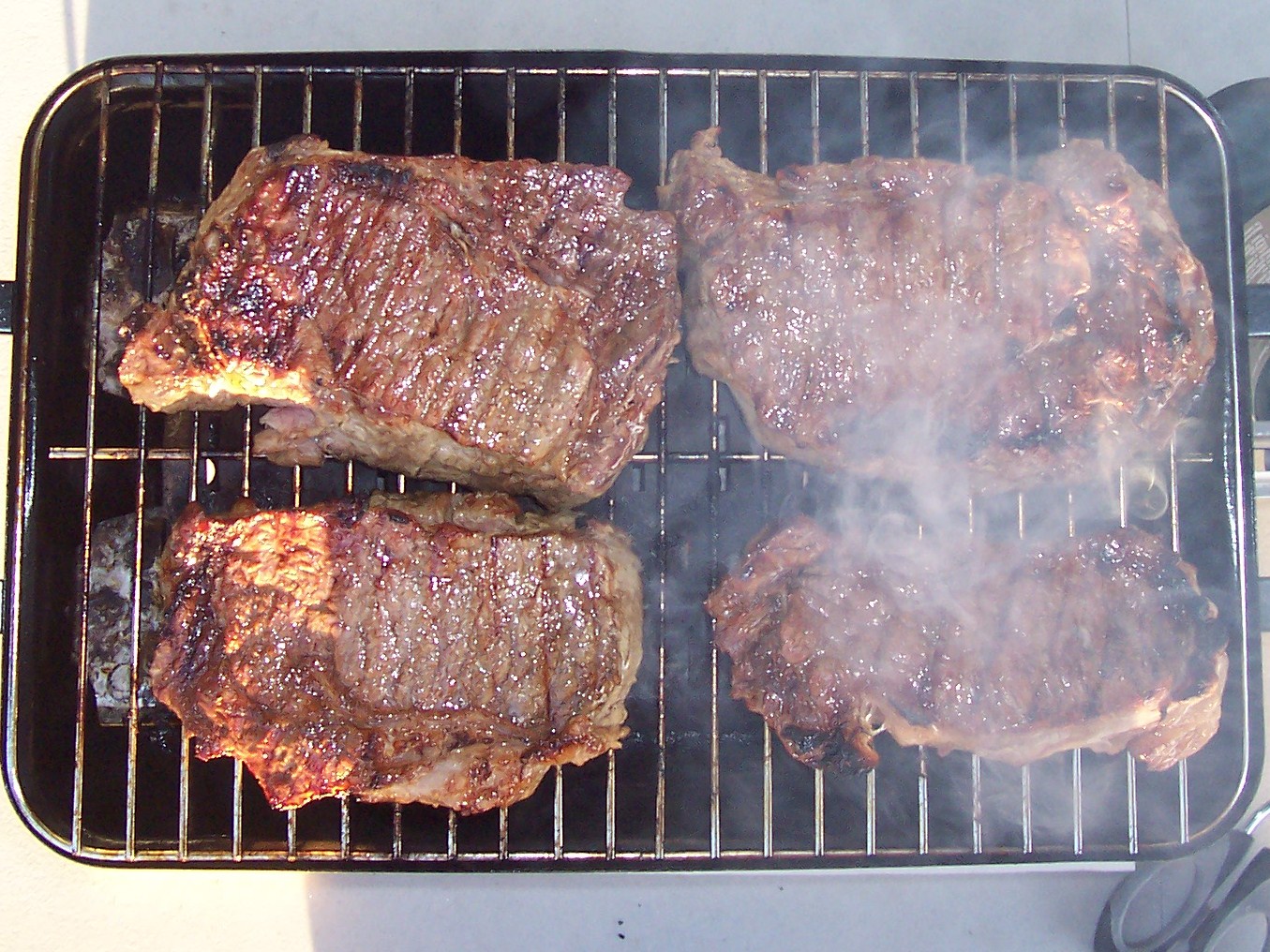 We also grilled Bacon Wrapped Asparagus and Lemon Butter Basted Shrimp — No recipes are needed here, since the ingredients and instructions are within the dish titles.  Just wrap, lace, baste and BBQ.  Both are simple and Tast-TEE!
One luxury camping lunch included home grown Tomatoes, sliced Mozzarella and julienned Basil drizzled with Italian Dressing (or Balsamic Vinegar and Olive Oil).  With that we munched on Chips and Bleu Cheese Dip, Fresh Cut Cantaloupe, and Artichoke Hearts.
Another night we had Tacos rolled in freshly cooked Uncooked Flour Tortillas.  Yes, that sentence is correct.  See related links for more information.
For breakfast we made Scrambled Eggs with Soy Sauce, Mini Bagels & Cream Cheese, and Mimosas.  Another lunch included Ham, Salami, Provolone, Pickle and Tomato Sandwiches.
Dessert was easy.  We brought Rice Crispy Treats, Cupcakes (various flavors, kinda like a dozen Doughnuts), and Fudge.  All were homemade.  The recipe on the Kraft Marshmallow Cream Jar is our favorite Fudge Recipe.  And you know where to find the Rice Crispy Treats recipe.
The Cupcake flavors prepared here are Orange Zest, Lemon Zest, Lime Zest, Raspberry Swirl, Snicker-doodle, Maple Brown Sugar, Chocolate, and Coconut Pineapple.  Cupcake recipes to be posted in the future. 
BTW, our camping was in a large Motor Home on the cliffs of Carlsbad, California, along the beach — We didn't rough it too bad.
Fudge Recipe:  http://www.cooks.com/rec/view/0,189,152182-243194,00.html
Past Cupcake Posting:  http://www.ineedtext.com/FoodBlog/?p=12
Uncooked Flour Tortillas:
http://www.bloglander.com/cheapeats/2005/07/01/uncooked-flour-tortillas/
YouTube Bacon Wrapped Asparagus:
http://www.youtube.com/watch?v=hcI1fgXHksA