Homemade Gyro Meat and Tzatziki Sauce.
WOW.  I finally made my own Gyro Meat and it turned out terrific.  I captured the flavor and consistency without a rotisserie.  I researched several Gyro Meat recipes online to arrive at this perfect combination of a few.  And the preparation is relatively easy for the authentic tasting results.  The short RECIPE goes like this — Mix all ingredients together, puree, form into loaf, bake on a rack, let rest and slice thinly — EAT with Tzatziki.  If that doesn't tell you everything, the step by step photos and ingredients are shown below.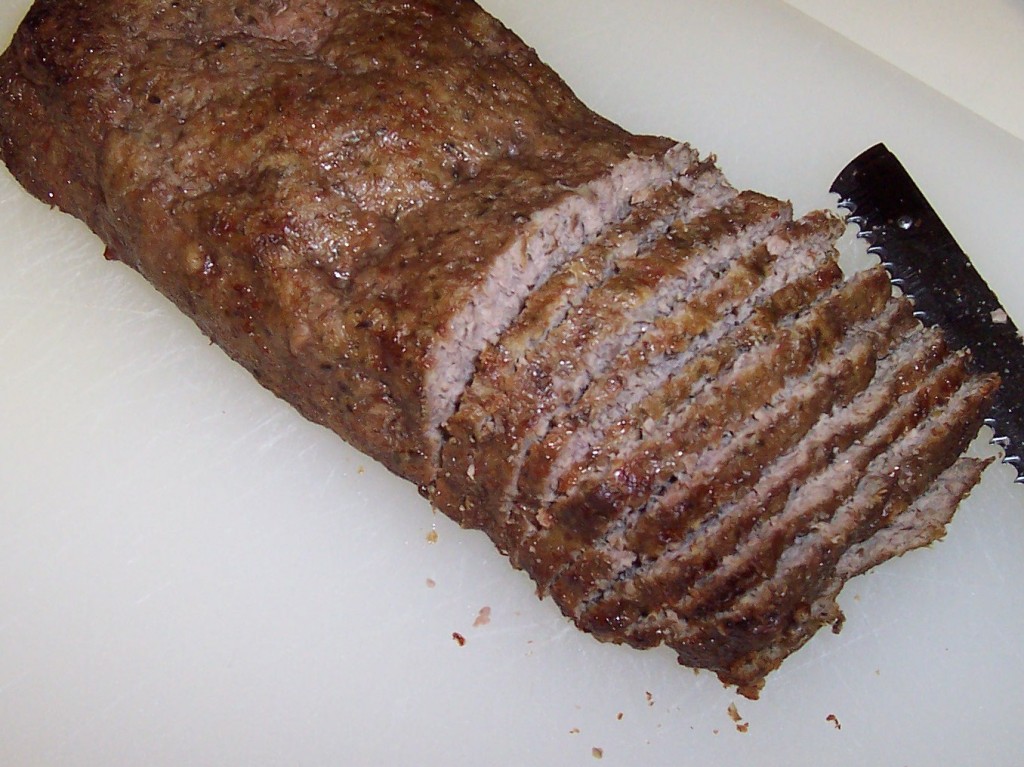 Ingredients:
1/2 pound of Ground Lamb
1/2 pound of Ground Beef
1/4 cup of minced Onion
1/2 teaspoon of minced Garlic
1/2 teaspoon of dried Thyme
1/2 teaspoon of dried Oregano
1/2 teaspoon of dried Rosemary
1/2 teaspoon of dried Marjoram
1/2 teaspoon of ground Cumin
1/2 teaspoon of ground Black Pepper
1/4 teaspoon of Salt
Directions:
1.)  Combine and mix ALL ingredients together, then place in a food processor and puree until a paste consistency (1 – 2 Minutes).
2.)  Scoop mixture out of the food processor and into a plastic wrap lined loaf pan.  Press firmly into the pan to close all air pockets in the meat.  Tightly wrap the plastic around the meat and let chill overnight (or several hours) in the fridge.
3.)  Remove formed Gyro Meat from the loaf pan and plastic wrap and place on a rack on a foil lined cookie sheet — This allows all sides of the meat to cook and the fat to run off.  Bake in the oven at 325° for 1 Hour.
4.)  After baking, remove from the oven, cover and let rest for about 10 minutes, then thinly slice for a Gyro Sandwich or alone with Tzatziki Sauce.
The photographs note the progression from (L – R) downward.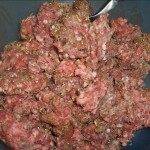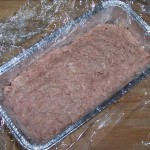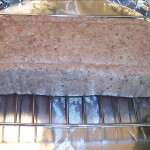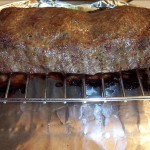 Tzatziki Sauce Recipe:
1 cup Plain Greek Yogurt
1/3 cup of grated English Cucumber
1 – 2 minced Garlic Cloves
1 teaspoon of Olive Oil
1 teaspoon of Lemon Juice (I'm heavy-handed)
1 tablespoon of fresh chopped Dill (Optional)
Mix all ingredient together and chill in the fridge for at least an hour, or overnight while the Gyro Meat mixture is doing the same.
For LEFTOVERS, when the Gyro Meat is cold and easier to slice thin, I cut a few slices, lay them on a Pita or Flat Bread, drizzle a little Olive Oil around the edges, then cook it in the toaster oven.  All you have to do is fold and eat.   It turns out great.
Or I'll cook the sliced Gyro Meat in a skillet with/without a little Olive Oil.  It's fun to have the meat on hand for quick lunches and dinners throughout the week.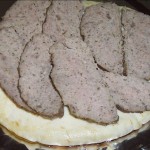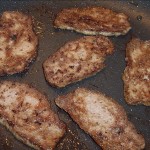 NOTE:  This Gyro Meat Recipe makes a fair amount for two, but the ingredients can easily be doubled to serve more.
Related Links:
http://allrecipes.com/Recipe/Traditional-Gyro-Meat/Detail.aspx
http://greekfood.about.com/od/appetizerssalads/r/tzatziki_sass.htm
http://xfleetwoodx.wordpress.com/2008/09/22/homemade-gyros-so-worth-the-effort/