Improvised Cup Warmer Sold As A $5.00 Candle Warmer.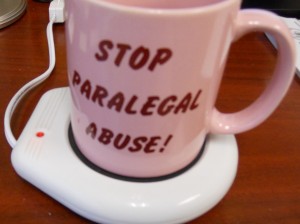 In addition to having a freelance writing career, I've been a Litigation Paralegal for several years — And I've always gotten a big kick out of walking around the law office with my Coffee in this cup. 🙂 Fortunately I'm not abused by too many hours anymore, so the main point of this post is my excitement over Coffee that stays warm.  Yeah!  I no longer have to keep reheating it in the microwave.  This so-called Candle Warmer is working fabulously as a Coffee Warmer.  Although I cannot vow for its complete safety for this purpose, it's been working well for me for 30+ days.  Use at your own risk.
*The identical looking product that's sold as a Coffee Warmer usually sells for $12.99 – $14.99, and the pictured product sold as a Candle Warmer was only $5.00.