Join Roy's L.A. Ohana Tour: It's Going On Now Through August.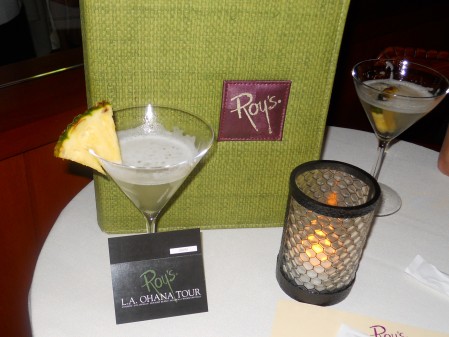 What a great bunch of people they have working for Roy's Hawaiian Fusion Cuisine.  We recently visited Roy's in Anaheim at The GardenWalk.  Did you know that each location's Chef Partner is trained by Roy Yamaguchi himself, yet is encouraged to infuse their own style and inspiration into Roy's classic menu items?  We just learned that cool fact, which makes each Roy's special in its own way, thus if you've been to one Roy's, you haven't been to 'em all.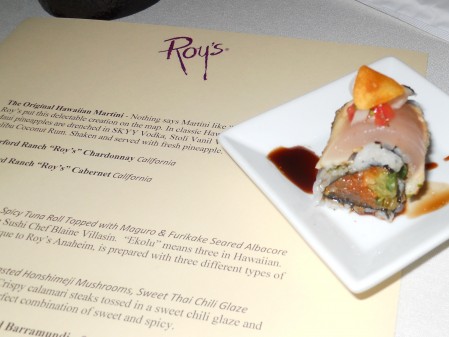 Roy's just kicked off its L.A. Ohana Tour, which will give guests the opportunity to experience the different taste variations each time they visit a new Roy's location — The specifics are detailed in bullet points below.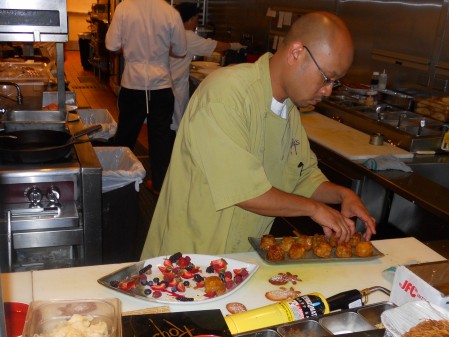 During our first tour stop, we thoroughly enjoyed Roy's Original Hawaiian Martini, which includes fresh Pineapple, SKYY Vodka, Stoli Vanil Vodka and Malibu Coconut Rum.  And we loved the flavors of the Ekolu Tuna Roll, the "Rim Fire" Calamari and the Sweet Corn & Blue Crab Crusted Barramundi, which was our favorite — It's made with a Sun Dried Tomato and Wild Mushroom Anisette Cream Sauce.  If you've never tried Barramundi, you're missing out.  It's a sustainable farm raised Fish with sweet succulent flesh indigenous to Australia. 
And for dessert, Roy's Pineapple Upside Down Cake with caramelized Pineapple baked with Brown Sugar Pound Cake and Coconut Ice Cream was the perfect finish.
Roy's recently announced the launch of its L.A. Ohana Tour, a new rewards program designed for diners to experience the creative chef variations on popular menu items offered at each location.  From June 9th until August 31, 2010, guests are invited to visit (3) Southern California Roy's restaurants to receive dining rewards and be entered to win an all-inclusive trip to Hawaii, where guests will enjoy a personal dinner with founding chef Roy Yamaguchi.
Your chance to win a trip to Hawaii starts with an inaugural visit to any one of Roy's participating restaurants, as noted below: 
· At the inaugural (first) trip to any participating Roy's restaurant, guests are awarded an Ohana Tour Card to present at the next Roy's location.
· On the second visit, guests will receive a complimentary Chocolate Soufflé with the purchase of an entrée.
· At the third location, guests will receive a $20 Gift Card with the purchase of an entrée, plus an entry into the Hawaiian sweepstakes.
· Restaurants participating in the tour include Roy's Anaheim, Los Angeles, Newport Beach, Pasadena, and Woodland Hills locations.
THEY SAY:  "In the Hawaiian culture, 'ohana' means family," said Leiala Whattoff, V.P. of Training & Development, Roy's restaurant. "We designed this tour to thank our frequent guests and encourage new guests to experience our exquisite food and the aloha spirit with their friends and family. By visiting three of our Southern California locations, guests will receive delicious rewards and the chance to win the ultimate dining experience in Hawaii."
Nibbles of Tidbits will be heading to Roy's in Fashion Island next for our complimentary Chocolate Soufflé.  Hope to see you on tour!
* We had hoped to post more food photos, but unfortunately didn't capture the deserving quality of all aforementioned dishes.