Las Fajitas Restaurant On & In Newport.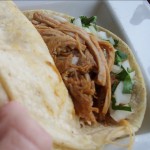 A fast pop into Las Fajitas Restaurant yielded great service, one of the better Salsa Bars (It includes Sour Cream and Marinated Carrots), and a Carnitas Taco that I would definitely have again.  Las Fajitas Mexican Grill • Seafood • Catering Restaurant is on Newport Boulevard in Newport Beach.  We'll be going back to try more.  So far, so very good.
Las Fajitas Restaurant direct link and related report.