Lazy Dog Restaurant & Bar: Ideal Spot To Celebrate A Dog's Birthday.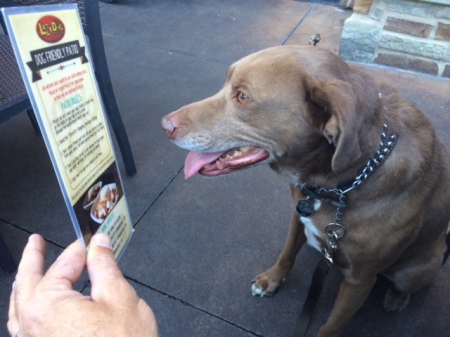 His name is Leon (above) and he just turned 8 — We celebrated him and his birthday at the Lazy Dog Restaurant & Bar at Cerritos Mall.  It's an ideal place for a Dog's Birthday or any day, since dogs are allowed on their patio and served a complimentary Bowl of Water.
It's a good place for adults too, though it was Leon's day, but we pay. 😉
We tried the Sangria Sampler — The White Peach Sangria (middle) was my favorite.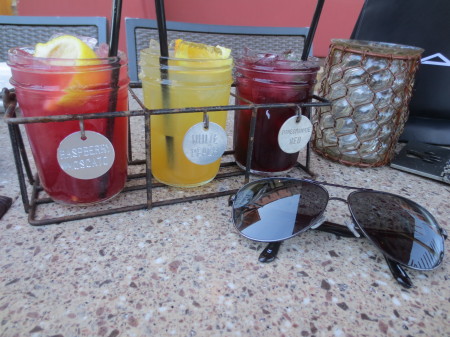 The Lazy Dog Hand Crafted Drafts Sampler hits the human spot too.
Leon chose the Grilled Chicken Breast and Brown Rice from the Dog Menu.
He ate all quickly, much how he eats everything, and appeared to like it.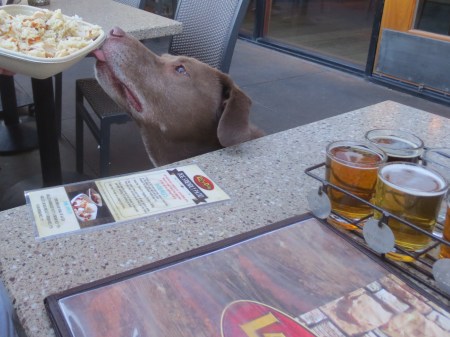 We had the Brick Oven Spinach & Sundried Tomato Cheese Dip (below), which could use more Spinach and Sun Dried Tomatoes, but the Cheese combination is good.
And the Chipotle Chicken Quesadilla — Overall, Lazy Dog's food is consistently good.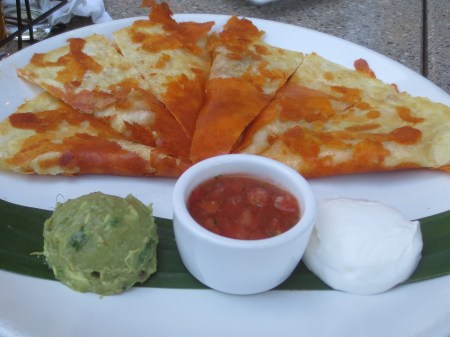 Afterwards we went for a walk along Dog Beach in Huntington Beach.
It's a true dog day afternoon at the Lazy Dog Restaurant & Bar and Dog Beach.
There's a Dog Friendly Patio at the Lazy Dog Restaurant & Bar — Enlarge photo to read their Patio Rules and don't be shy, bring your dog with you, especially if it's his or her birthday.