Lingcod Fish — It's Green, It's Blue, It's White.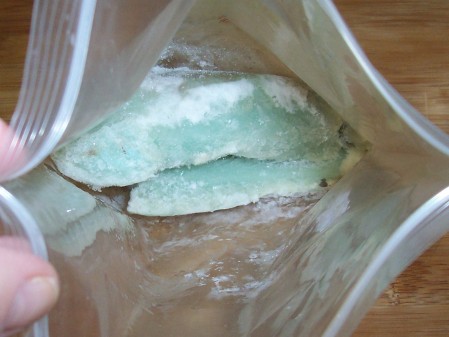 I always thought Lingcod Fish was a kind of Cod, but it's not Cod at all.  The related links will tell the rest of the story.  I was also amazed to see that frozen the Fish is green (above), uncooked it's blue (below), and cooked it's white.  It was fun seeing the colors change.
Although Lingcod can be blue, green or white, it always cooks up white.  I received a few pieces from a couple local fishermen friends.  I poached 'em in a wine-herb combination that's really not worth mentioning.  And ultimately Lingcod won't be one of my favorites — It's okay, but I'd rather they catch something else next time.
Related Links:
http://en.wikipedia.org/wiki/Ling_cod
http://www.trawl.org/Species.html
http://www.ci.santa-cruz.ca.us/pr/wharf/critters/critters3.html#lingcod