Mock Caesar Salad Dressing With Toasted Parmesan Cheese-Tons.
I love a well prepared Caesar Salad, but when it comes to making one at home, I don't want to work with Anchovies or raw Eggs, if I don't have to.  In search of simplicity and flavor, I found a Caesar Salad Dressing I'll keep forever.  It satisfies all criteria perfectly.
No-Egg Caesar Dressing (Rachael Ray's) – Just mix all ingredients in a blender & enjoy!
1 Garlic Clove, finely chopped
1 Lemon, juice of
1 teaspoon of Tabasco
1 teaspoon of Worcestershire Sauce
1 teaspoon of Dijon Mustard
1/3 cup of Olive Oil
1/2 cup of Parmesan Cheese, shredded or shaved
Salt and freshly ground Black Pepper
This Salad Dressing doesn't lack for anything and can be tossed with any greens.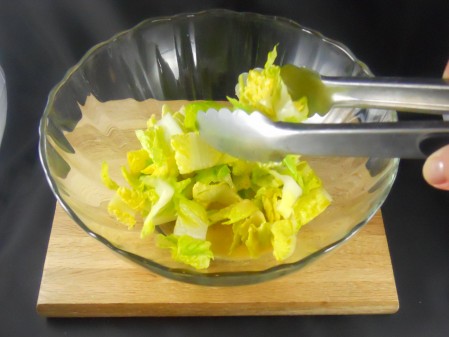 Once the Salad Dressing is prepared, only two more ingredients make this Caesar amazing.
Toasted Parmesan Cheese sprinkled as Croutons put this homemade Caesar over the top.
To prepare the Cheese-Tons, just add grated or shredded Parmesan to a dry skillet on medium.  Heat until each Cheese consortium crackles and pops together, then remove from skillet to cool on a paper towel.  Crumble over fresh Romaine tossed with this delicious mock Caesar Salad Dressing.  It's made in minutes and tastes like it's from a restaurant.