Moroccan La La Land: Kefta With Eggs And Tomato For Brunch.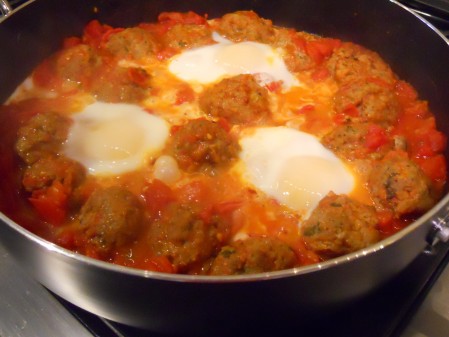 The challenge continues in Morocco, where I've mentally traveled the past few days.  As a lucky contender still kicking my way through Project Food Blog, I'm now asked to "tackle a classic dish from another culture" that's "outside [my] comfort zone" — I can't wait!  I'm excited to advance to Challenge #2.  Thank you judges, voters, God, family and friends.
During international cookbook immersion, a spark ignited for Kefta with Eggs and Tomato.  I had sought to find a dish we really wanted to eat, one that had unique ingredients, yet not a ridiculous amount, and one that didn't take too long to make, and it had to be colorful — I initially thought about Rogan Josh, but it didn't pass the color test.  Another time for that.  Selecting an "ethnic classic" I wasn't familiar with led me on a journey, as the prompt likely intended.  Before understanding my chosen dish, I thought I'd be dining in the Middle East, then came to realize that I'd actually be in North Africa, most specifically Morocco having the pictured Kefta with Eggs and Tomato for supper with Moroccan friends.  It's also a classic brunch dish and it's served as a snack at bus and train stations in between both destinations.
Kefta with Eggs and Tomato (with Ras El Hanout) is pin-pointedly Moroccan and satisfies all self-imposed and set standards of this challenge.  What's Ras El Hanout?  Last week I had no clue and I'm still not sure how to pronounce it, but now know what it is.  After calling all over town to purchase it off the shelf, I learned one jar was available 40 miles away.  At that moment I realized that it wasn't necessary to drive there, since [it] is a somewhat subjective spice — Meaning Ras El Hanout is not one spice.  It's sold in countless spice variations. 
In Arabic, Ras El Hanout means "top of the shop" and refers to the best spices a seller has to offer.  It usually contains no less than a dozen spices and sometimes up to a hundred.  It's also believed to be an aphrodisiac.  Does it mean that each Ras El Hanout combination magically morphs into an aphrodisiac?  I'm not sure about that, but it's fun to wonder about.  Since I had all ingredients on hand, I made my own Ras El Hanout to find out.  I found several recipes on the web and chose one that sounded best to me.  I halved the recipe and added two ingredients that were common in similar recipes.  Nibbles of Tidbits' Ras El Hanout Recipe is posted here:
1 Teaspoon of Cumin
1 Teaspoon of Ginger
1 Teaspoon of Turmeric
1 Teaspoon of Kosher Salt
1 Teaspoon of Black Pepper
1/2 Teaspoon of Allspice
1/2 Teaspoon of Coriander
1/2 Teaspoon of Red Pepper
1/2 Teaspoon of Saffron Threads
1/2 Teaspoon of Cardamom
1/4 Teaspoon of Cloves
1/8 Teaspoon of Nutmeg
1 1/2 Teaspoons of Cinnamon
Toast and grind spices if whole, then combine all and keep in an airtight container.  I reused a saved spice jar and slapped a new label over it.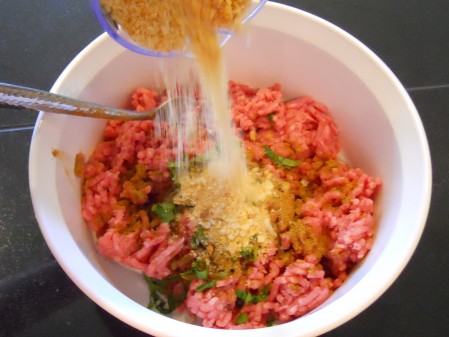 Kefta is basically ground meat, most commonly Lamb and/or Beef that's mixed with a variety of herbs and spices — It's then formed into balls, sticks or loaves, and grilled, fried or baked, etc.  The recipe made here is based on one from The African and Middle Eastern Cookbook (pg. 103).  I stayed true to authenticity, yet made it a little tastier by caramelizing the Onions before adding them to the Meatball mixture, and easier by baking them instead of frying 'em.  In addition, I added Garlic, as seen in many Moroccan Kefta recipes, and I used fresh Tomatoes instead of canned.  Nibbles of Tidbits' Kefta with Eggs and Tomato Recipe is posted here:
1 lb. of Ground Lamb
1 small chopped Sweet Onion
1 Cup of Bread Crumbs
4 – 5 Eggs
1 large minced Garlic Clove
6 large fresh chopped Tomatoes
2 + 1 Teaspoon(s) of Ras El Hanout
1/4 Cup of chopped fresh Cilantro
1/2 Cup of Water* (1/4 + 1/4)
Flat Leaf Parsley (chopped), a little for Sauce and garnish
Salt and freshly ground Pepper
Olive Oil for baking sheet and Onion sauté
Sauté Onion until caramelized.  Add Garlic, cook two minutes longer and set aside.  Combine the Lamb, Bread Crumbs, 1 Egg, Ras El Hanout (2 tsps.), Onions and Garlic, Cilantro and S & P.  Mix together well, then add Water, 1/4 cup at a time until incorporated.  Form into medium sized Meatballs and bake in a preheated 400° oven for 25 – 30 minutes.  
* Adding Water or Milk to a Meatball recipe lightens them up, whereas they cut like butta.  There's no reason for a Meatball to be tough, unless you're a biker named One Tough Meatball.
To make the Sauce, combine the Tomatoes, Sugar, reserved Ras El Hanout (1 tsp.) and a handful of Flat Leaf Parsley.  Simmer until reduced, then add the baked Meatballs to the Sauce.  Form 3 – 4 wells for the Eggs.  Crack 'em directly into the skillet, cover and cook until Eggs are set.  Serve straight from the skillet with Crusty Bread.
For continued authenticity, we served the Kefta with Sweet Mint Green Tea, Orange Juice and Olives, popular beverages and a snack in Morocco.  I properly mixed the Tea too.
Kefta with Eggs and Tomato turned out to be a flavorful, hearty and beautiful dish.  For this challenge, I read 15 – 20 recipes to create an adaptation that kept the dish authentic, yet made it easier to prepare and better to eat.  I can't help it — It's all I know. 🙂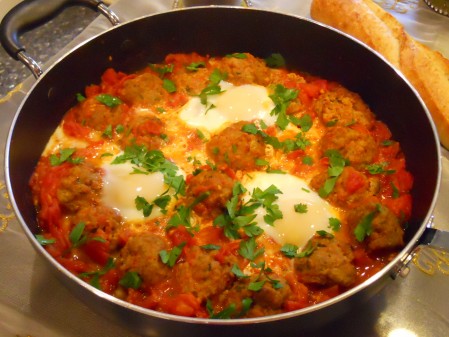 Could this post be worthy of (1) of your (200) votes?  I hope so!  I'm exhausted, yet still wanting to line up standby guests for the Discovery Dinner Party, in the event there's reason to celebrate.  My brain is on the last flight back from Morocco.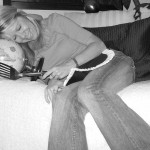 You may VOTE FOR ME here.