Nature's Pride Bread Ambassadorship: Florentine Surprise Eggs & Toast.
When cooked, there's a hidden Spinach surprise beneath each Egg.  This recipe was inspired by one prepared by Chef Jamie Gwen and my love of Eggs Florentine as an alternate to Eggs Benedict, another breakfast favorite — I combined aspects of each, along with Nature's Pride 100% Wheat Bread to create the best marriage of all.  I'm calling this one Florentine Surprise Eggs & Toast.  They're easy to make and produce a remarkable presentation of flavor.
This recipe was fashioned for potential Bread Ambassadorship to be bestowed by Nature's Pride, an official Sponsor of the Foodbuzz Blogger Festival in San Francisco this November.  It would be a tremendous honor to be one of the chosen six — I'll stress later about demoing it at the Pavilion, if selected.  Can I get a volunteer to dice the Onions and crack the Eggs? 🙂
As shown in photos (l – r) downward, I used Nature's Pride 100% Whole Wheat Bread, and to be honest I'm not a big Wheat Bread gal, but do enjoy the double-wrapped freshness, texture and taste of Nature's Pride Breads in general.  In my experience, the one's I've tried have been exceptional — I'm happy to report.  This recipe was developed with it as the base.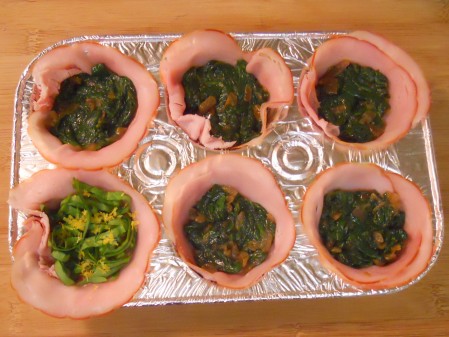 The Florentine Surprise Eggs & Toast does rest on the "Toast" — First cut the Bread slices into rounds with a well-sized Cookie or Biscuit cutter, then toast them (light – medium) in the oven or toaster oven.  Both work well if you don't burn 'em.  No neglect can happen.
Florentine Surprise Eggs & Toast
Recipe Ingredients, Instructions & Tips:
* Nature's Pride 100% Wheat Bread  * Baby Spinach  * Eggs  * Sweet Onion 
*Deli Ham Slices  * Lemon Zest  * Green Onions  * Olive Oil  * Cooking Spray
Dice and caramelize Onions until golden brown, then stuff the same large pot with washed fresh Spinach.  Cook down the Spinach* and all liquid, stir in the Lemon Zest** and set mixture aside to drain.  Spray Cupcake/Muffin pans with preferred Cooking Spray and place one Toast round in each cup, then arrange the Ham*** slices formed into a cup over each Toast.  Add a portion of the drained Spinach mixture on top of the the Ham, crack an Egg over each, season with Salt and freshly ground Pepper, and then bake all in a preheated oven at 375° for 15 minutes.  Remove and transfer to a serving platter and/or awaiting plates and garnish with Green Onions.
* The amount of Spinach to use is sometimes hard to estimate.  For six Florentine Surprise Eggs & Toast I used about 6 – 7 cups of fresh Spinach.  Add approximately (2) tablespoons of the cooked Florentine mixture to each cup being sure to leave enough room for the Egg.  As a test, I also prepared one Florentine combo (pictured above) with uncooked cut Spinach and Lemon Zest and it didn't turn out nearly as flavorful, thus it's not recommended.  I'm always looking for a good tasting shortcut.
** Stir in 1/2 teaspoon of Lemon Zest after cooking the Spinach mixture.  Its addition is meant to bring in the essence of a Hollandaise Sauce, which is usually included with Eggs Florentine and Benedict.
*** Ask your Deli Guy/Gal to slice their finest Ham into medium thick slices (not too thick).  The pictured Ham slices were a bit too thin.  It's best to use thicker slices, so the Egg doesn't leak through.  If it does leak a little, it's not the end of the world.  And believe it or not, the Toast base does adhere to the Ham top for easy removal from the pan.
Note:  I must state the following… As part of the Foodbuzz Tastemaker Program, I'll receive a coupon good for a package of Bread.  That's it.  The pictured loaf was on my dime, as I wanted to get started on this fun concoction.  I've learned that Wheat Bread is good to eat too.  Thanks for the consideration Foodbuzz and Nature's Pride.  Enjoy the recipe!