Nibbles Of Tidbits Most Popular Recipes In Photographs.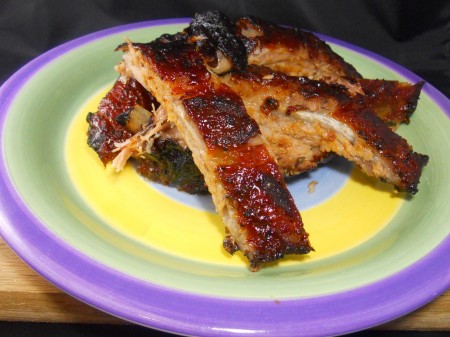 A few of our most popular recipes were recently noted in this post — Here they're linked and featured in photographs starting with the Quick Tender Oven Baked Baby Back Ribs.
Have you tried Chipotle's Barbacoa Beef?  I love it and created a copycat recipe.  It may be the most viewed post on Nibbles of Tidbits — It's a darn good recipe too.  If you know the flavors, you'll see.  Our preparation starts by searing the Beef, then on to slow cooking to easily shred.
Though the above photo doessn't look that appetizing, it's tasty as all get out topped with Goat Cheese.  It's another copycat recipe that works — Houston's Braised Red Cabbage.
Have you ever gone through the hassle of preparing Amish Friendhship Bread?  When I did, I thought it was quite burdensome, but after tasting the finished product, I'd do it over and over again.  It's one of the best Breads I've had — Complex, flavorful, moist and magical.