Nuts For The Union Square Cafe Bar Nuts In NY: Easy To Make In CA.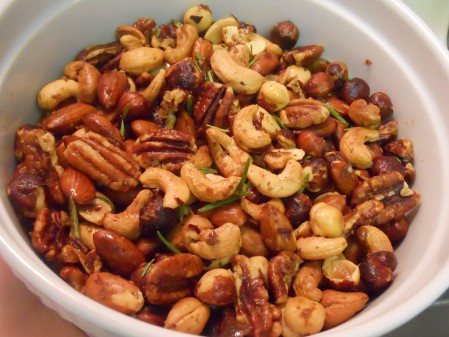 There's not much more to say about the Union Square Cafe Bar Nuts that hasn't been said or written by many.  I first saw them on the Food Network as one of Giada De Laurentiis favorite snacks.  They looked and sounded so good I made 'em the next day.  I love Nuts and everyone is right, the Union Square Cafe Bar Nuts are superb and easy to make at home.
The Nuts are toasted in the oven at 350° for about 10 minutes, then tossed with a little Butter, Sugar, Sea Salt, Cayenne Pepper and Rosemary.  That's it.  They end up with a sweet, salty, smoky, spicy, herby flavor.  Our new favorite snack — The Union Square Cafe Bar Nuts.
While Nuts are toasting in ovens coast to coast, Kids in the Kitchen are playin' in the NYC snow and we're ready to toast on an OC beach.  We're nuts over these Nuts — This time we used Almonds, Pecans, Cashews and Hazelnuts.  Use any Nut you want, and read what others are saying here, here and here.  We're happy to have the recipe.