OC Fair Stats And Traveling Welcome Mats Movin' On To LA.
Until next year… Check out the stats released (below) by The OC Fair & Event Center Communications Department — The 2012 Orange County Fair was a success on many levels.
The 2012 OC Fair Rolls Up The Welcome Mat For Its More Than 1.3 Million Guests
The 2012 OC Fair wrapped up another successful Fair season by welcoming 1,357,355 Fairgoers for 23 days and nights of "Home Sweet Home" with food, fun and farm animals.
"In my first year as CEO, this Fair has exceeded all expectations. Every year, the Orange County Fair manages to deliver a high quality event and this one was no exception. Of course, we owe it all to our loyal guests, all 1.3 million of them, who make the OC Fair the success it is," said Jerome Hoban, OC Fair & Event President & CEO.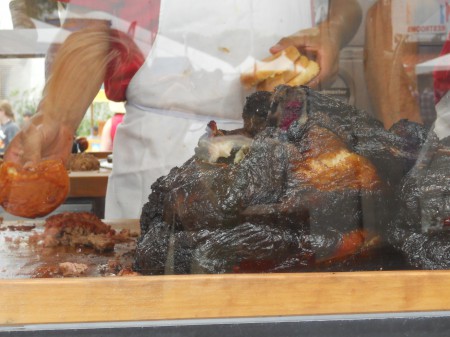 Fairgoers came to the OC Fair for outstanding entertainment as the Pacific Amphitheatre saw a record-breaking year with its highest-grossing summer concert series yet that also featured 7 sold-out performances, including Young The Giant/The Steelwells, Steel Pulse/The Dirty Heads, Earth, Wind & Fire, Tears For Fears, Victoria Justice/Max Schneider, Heart, and Duran Duran. Music fans also came out in masses for rocking tribute and original bands booked in The Hangar, which broke records with its highest attended season since opening in 2010. Sellout shows included Journey Unauthorized – A Salute to the Music of Journey, "Led Zeppelin Live" Starring Heartbreaker, Purple Reign – THE Prince Tribute Show, Queen Nation – A Tribute to the Music of Queen, Wild Child – A Jim Morrison Celebration, The English Beat/The Originalites, Which One's Pink? – The Best of Pink Floyd, Moonwalker – The Reflection of Michael Jackson, Dead Man's Party – The Oingo Boingo Tribute, and Mariachi Sol de Mexico de Jose Hernandez. And not to be left out, adrenaline junkies packed the Action Sports Arena for X-treme Freestyle Moto-X, Bull Riding (Saturday, July 21 show) and five nights of demolition derby which featured traditional derby cars and motorhomes as well as a special all-female derby that raised around $6,000 for the OC Affiliate of Susan G. Komen for The Cure.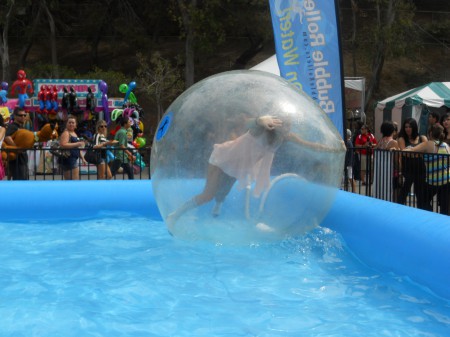 Fairgoers arrived at the 2012 OC Fair hungry and left with bellies full of deep-fried concoctions, grilled wonders and bacon masterpieces. Chicken Charlie's top "Totally Fried" item was the new Deep-Fried PB&J (9,000 sold) and at his new Pineapple Express, some 10,000 pineapples were used. Bacon A-Fair's Bacon-Wrapped Turkey Legs flew off the grill 7,500 times while 100,000 pieces of Chocolate-Covered Bacon tantalized sweet tooths. The new Biggy's Meat Market satisfied everyone's inner caveman by selling approximately 3,900 17-inch Big Ribs, which amounted to more than 10,000 pounds of bone and grilled meat. Some 30 percent of Big Ribs sold were packed up and taken back to the mancave by Fairgoers with the largest to-go order at 20 massive ribs. Of the more traditional Fair food items, Juicy's sold more than 60,000 turkey legs and enough corn dogs to stretch 3.5 miles end-to-end.
Fairgoers also looked to save on their trip to the Fair by taking advantage of the daily opportunities for free or discount admission. More than 382,298 Fairgoers took advantage of the free or discount admission promotions and of that number, 79,774 generous Fairgoers took advantage of free admission and a carnival ride offered with donations of canned food, children's books, clothing and school supplies during the four We Care Wednesday drives. Plus, 13,899 Fairgoers in total scooped up a Super Pass (featuring 23 days of admission).
The annual Jr. Livestock Auction welcomed increased numbers of animals sold and money raised with 323 cattle, sheep, rabbits, swine, turkeys and goats selling for more than $310,000, which benefits the youth participants in local 4-H and FFA programs.
In celebration of the 2012 theme of "Home Sweet Home," 12,177 active duty and veteran military were welcomed to the Fair for free through the Salute to Heroes daily promotion to enjoy the Fair and view the new Let Freedom Ring Exhibit and nightly Salute to Heroes presentation in The Hangar. (Press Release by OC Fair & Event Center and photos by me)
More interesting numbers from 23 days at the 2012 OC Fair:
Centennial Farm welcomed 27 piglets, 1 Jersey calf and 3 kids (baby goats)
Of the 4,597 competitors that submitted more than 12,900 hand-woven blankets, homemade cookies, stunning photography, exquisite woodworking and more creative entries in the various competitions and contests, the Fair awarded more than 2,940 people with award ribbons and more than $33,220 in cash awards
The new Bacon A-Fair sold 20,000 pounds of bacon either beer-battered, dipped in chocolate or wrapped around turkey legs, hot dogs and stuffed jalapenos
Fairgoers consumed 300 cans of Spam and 5,000 orders of Deep-Fried Cereal from Chicken Charlie's and 600 Red Velvet Funnel Cakes from Toucan Funnel Cakes
Potato-loving guests kept Tasti Chips busy cutting 35,000 pounds of potatoes; Biggy's Meat Market with 20,000 pounds of potatoes and Juicy's with 50,000 pounds of curly fries and 39,000 pounds of waffle fries
48,125 thrill-seekers took unlimited enjoyment of rides in the two carnivals on the Unlimited Ride Wristband days (Wednesdays and Thursdays)
During We Care Wednesdays, Fairgoers donated 43.5 tons of canned food, 59,353 books, 113,310 items of clothing and thousands of school supplies
The 45 showings of the new Salute to Heroes presentation, shown nightly in The Hangar, used 8,858 pyrotechnics to thank our country's service men and women 
The 2012 OC Fair, themed Home Sweet Home featured 23 days of food, rides, exhibits, animals, music, action sports and fun, as well as the Super Pass, Toyota Summer Concert Series at the Pacific Amphitheatre, The Hangar and Action Sports Arena. (Related posts are here)
The OC Fair & Event Center, home to the OC Fair, is located off the 405 and 55 freeways at 88 Fair Drive in Costa Mesa. For more information, please visit ocfair.com, become a fan at Facebook.com/OCFair, or follow them at twitter.com/ocfair.