Preliminary Testing For An Upcoming Cheese Tasting Par-tay.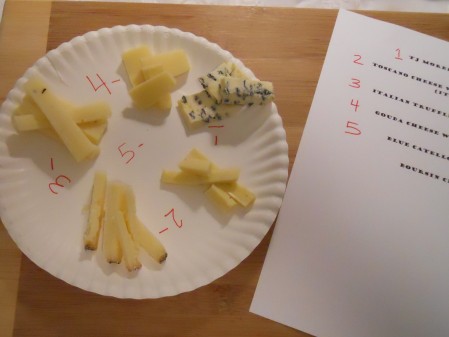 Inspired by the Cheese & Charcuterie we saw at SideDoor in Corona Del Mar, we're testing Cheese to select the best for a Cheese Tasting Party I'll be hosting.  The goal is to make our platter as special as theirs.  We learned the importance of preliminary testing by quickly ruling out the TJ Morbier from France, Cheese #1 (Above).  It was awful.  I don't like having to write this because it's not appetizing, but it smelled and tasted like stinky feet — Not good!  I definitely wouldn't want to serve it to guests, as it could be a turn off from the rest.
I ultimately decided on 5 – 6 Cheeses from Trader Joe's and can't wait to plate them with Calabrese Salami and Black & Green Olive Bread, with a complimentary selection of fresh Pears, dried Montmorency Cherries, Pecans, Garlic Stuffed Olives, Red Grapes, Mustard, Club Crackers, Pita Chips, etc.  Check back to see how our Cheese & Charcuterie measures up to the platters at SideDoor.