Say Aloha To The Aloha Roll & 1/2 Price Sake At Sapporo Sushi.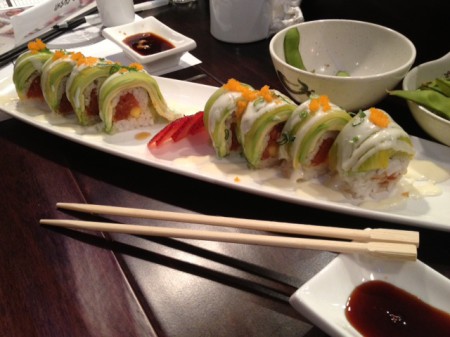 UH-LOW-HAH Aloha Roll (above) — We can't wait to go back to Sapporo Sushi (f/k/a Niko Niko Sushi) to have it again.  It's made with Baked Pineapple, Spicy Tuna, Avocado and Mango.
A Tempura Special Roll of some sort (above) for another table — It sure looked good.
We also had the Hungry Roll (above), which is layer upon layer of texture and flavor.  It's over the top.  Watching it be made was crazy — It's got Shrimp Tempura, Spicy Tuna, Popcorn Shrimp, Avocado and Crab.  Sapporo Sushi is near CSULB off PCH/7th Street in Long Beach.