Slater's 50/50: Burgers Designed With 50% Bacon & 50% Beef.
At Slater's 50/50, it's an option to have a Burger made with 50% Bacon and 50% Beef — And if that's not enough, add a Fried Egg, Avocado Mash, Pepper Jack Cheese and Chipotle Mayo and you have The 50/50 Burger, one of Slater's Signatures.  We had to try it.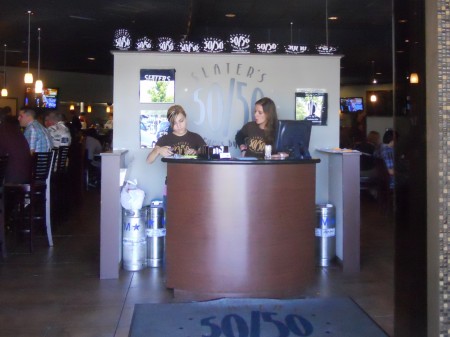 A partner at the fantastic law firm that employs me had been raving about it for months.
It was worth going there just to see the giant Burgers pictured above.  We're not sure if the guys were able to finish them, since we left beforehand, but all nearby tables were watching.
While waiting for a table and perhaps inappropriate for a minor, Chef Lexi of Kids in the Kitchen pretended to pick up Kegs — Inconsequential to the report, but entertaining and cute to its publisher.  Back to the food and on to The 50/50 (blurry) photo below…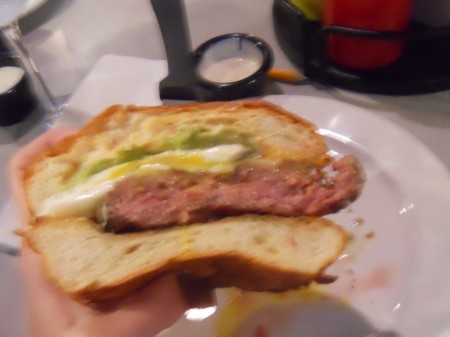 The Burger was certainly interesting to try, but we prefer Bacon in its crispy form.  The Burger seems a bit dense and less juicy than an all Beef Burger and was too rich tasting for us. 
Regarding the sides… I wanted the Fried Dill Pickles (a unique option), but we settled on sharing the French Fries and Fried Macaroni N' Cheese for the Pick 2 Combination Plate.  The French Fries were good, but we think Slater's 50/50 may get their Fried Macaroni N' Cheese from the same supplier as Del Taco.  Not saying it's true, but it sure looks and tastes identical to the ones they sell and we don't care for either of them — Too greasy.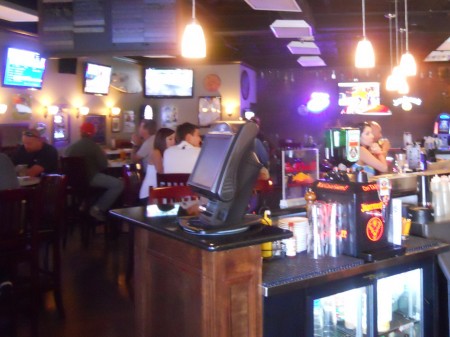 We hoped to provide a more favorable report, but didn't fall in love.  Sorry Mike.  HOWEVER, the service was great and we liked the feel of the place, thus may go back to try a different Burger and side, and probably more Beer for the non-driving adults.
Slater's 50/50 is in a strip mall in Anaheim Hills and smells terrific from the parking lot.
We'll try something different next time.