The Counter For National Hamburger Month.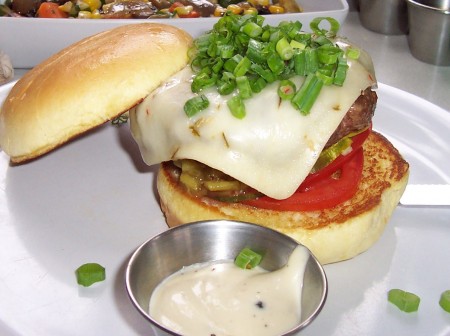 We're heading towards the end of National Hamburger Month (May).  It's a good excuse to hurry and have one, or more.  We celebrated at The Counter Custom Built Burgers.  They have more than 20 restaurants in about 10 states and 3 countries, including Australia and Ireland.  We went to the one in Irvine's Woodbury Town Center.
The Counter is a restaurant that provides a check-off menu to select exactly what you want on your Burger, starting with Beef, Turkey, Veggie or Chicken.  Our choices today both included Beef — One had Jalapeno Jack, Green Chiles, Tomato, Pickles, Green Onions and Roasted Garlic Aioli, and the other had Tillamook Cheddar, Mixed Baby Greens, Black Olives, Bermuda Red Onion, Grilled Pineapple and a side of Ginger Soy Glaze.
They also offer the above Starter that includes Sweet Potato Fries, French Fries, Crispy Fried Onion Strings and Fried Dill Pickle Chips, and comes with 4 Sauces — Ranch, BBQ, Apricot and Horseradish Mayo (I think).  The Apricot Sauce is served for the Fried Dill Pickle Chips.  It's not a bad combination.  ALL was very tasty and fun to eat.
And we tried the Hobo Pack, which comes served in baked parchment paper for you to empty into the bowl.  It's an assortment of Grilled Vegetables with fresh Herbs — I generally love the combination, but the flavor of this one was just okay.  A dash of Balsamic Vinegar would serve it well.
Overall, we really like the place and the service was excellent at this location.  We wish the tables were a little wider, since we had to play musical table stuff a few times.  And I need to go back at least 10 more times to try all the Burger combinations I have in mind.
The Counter DIRECT: http://www.thecounterburger.com/
MENU: http://www.thecounterburger.com/menu/
MORE about National Hamburger Month:
http://foodfrenzy.freedomblogging.com/2009/05/06/holy-cow-its-national-hamburger-month/7185/
MORE Counter Burger PHOTOS:
http://www.yelp.com/biz_photos/Jcpo0wZfey_YaNzhk8vmGQ?select=tP23n9LMs-IeGqlnvmo27g