This Onion Is No Longer A Cover Girl: The Longest Marathon Is Over.
Although not technically food related, a tie-in was created for expression.  This Cryin' Onion wants the story told.  I should be embarrassed, but here it goes… I've been using the same mascara since high school, long enough.  It's Marathon Waterproof Mascara by Cover Girl.  Nothing fancy, but it works.  I never had reason to switch, until now.  It's been discontinued.  And if that's not bummer enough, I've been buying it for up to 5-times its original price on Amazon and Ebay.  I told myself not to do it, but still thrown off without a replacement to love, I did.  And it's now getting worse, because it's no longer available on Amazon and prices are rising on Ebay.  Its latest, someday expiring seller thanked me, yeah I'd thank me too.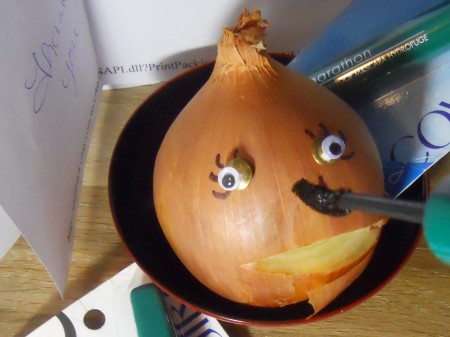 Cover Girl suggests a specific replacement, but I wasn't impressed and now truly forced to find another — And guess what?  It won't be by Cover Girl.  They may have discontinued it in hopes its users would purchase one of their higher priced mascaras, unsure.  I'm told the decision wasn't made due to lack of sales.  Was it uncool?  Maybe you are CG, because Onions aren't supposed to cry.  That's not how it goes.  Now bring it back.