Trader Joe's Box Of Belgian Chocolate Fancies.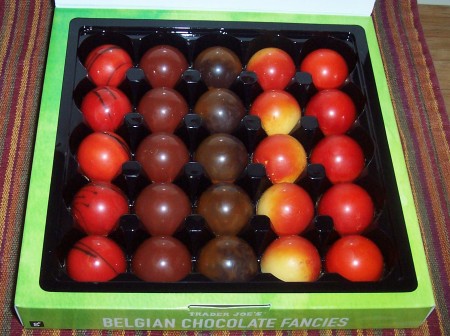 I initially bought these Belgian Chocolate Fancies to be a prize at a Christmas Party I'm hosting next week.  I usually buy about (10) $5.00 prizes to award to the winners of the crazy games I conjure up.  This year will be my 15th Annual Girl's Christmas Party and it appears I've already won (or cheated), since I'm eating them.  I'm not supposed to do that, but couldn't resist after reading the package.  The natural fruit flavors sounded way too delicious, plus I've been craving fancy Chocolates after recently trying those made by Christopher Micheal Chocolatier.
These Belgian Chocolate Fancies are sold at Trader Joe's for only $4.99, which is less expensive that those by Christopher Michael — They're good too!  It looks like I'll need to go back to TJ's to buy a replacement box, before my party guests see this.  Nibbles of Tidbits highly recommends these Chocolates for their flavor and beauty.
Update 01/29/10:  When I last saw them at Trader Joe's, they were on sale for $2.99 a box — I'm not sure if they're still selling them, since their products change quite often.  The packaging didn't do 'em justice.