Unknown Blondies N/K/A Award Winning Blondies: The Recipe.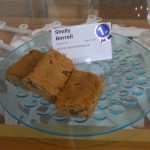 Would you believe I just learned what a Blondie is?  It's like a Brownie without Chocolate.  Did you know that?  Since I'm one of the few people in the world who doesn't care for Brownies, this year I chose to make Blondies for the Culinary Arts Competition at the Orange County Fair.  Having never made (or ate) one before submission time, I practiced by varying three different recipes to ultimately create the award winning Blondies pictured here.  And it's a good thing I did, since the first few batches didn't turn out well at all — Then at last I was happy with the ingredient combination, taste and texture.  Following is the final BLONDIES RECIPE.  It's a winner, literally.
1 Cup of Flour
1 Teaspoon of Baking Powder
1/2 Cup of Butter (1 Stick)
1/2 Cup of firmly packed Light Brown Sugar
1/2 Cup of firmly packed Dark Brown Sugar
1 Large Egg
1 Teaspoon of Vanilla Extract
1/2 Cup of chopped Pecans
1/4 Cup of Milk Chocolate Chunks (Chocolate Bar rustically cut)
Preheat oven to 350°.  Combine the Flour and Baking Powder in a small bowl.  In a separate bowl, melt Butter and stir in the Light and Dark Brown Sugar until well blended, then whisk in the Egg and Vanilla.  Add the Flour mixture until all is incorporated, then stir in the Pecans and Milk Chocolate Chunks.  Pour batter into a 8 X 8 baking dish and bake until the Blondies are set in the center, about 25 – 30 minutes. Let cool, cut and dig in.